Views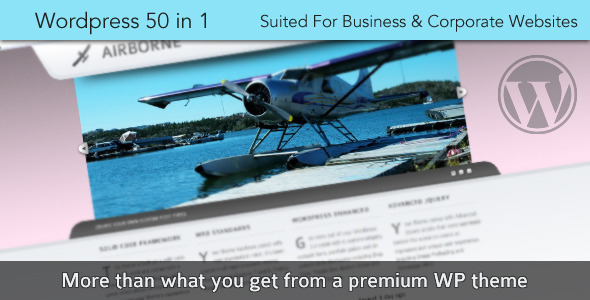 Total Download: 5/6526
Theme Features
Airborne Details:
Airborne enhances your WordPress 3.0 experience in a way you have never dreamed before! With the theme admin page you can add unlimited custom post types which you can use on gallery pages! This means you can have as many galleries or portfolio pages as you can. Just add a post to your custom post type, and you will see that the featured image of that post will be added to your gallery automatically!
Buying for a client? Multiple Background Colours, 10 Cufon Fonts, …
With clever use of custom post types, your client wont ask you any questions! They will never need to touch or edit any code to change slider images, galleries, posts or pages!
You have to check the live preview to really understand what this theme is all about! Let me tell you, its all about ease of use and style!
Theme Features
* Basic HTML version included!
* 10 Background Color options
* 10 Different Cufon Fonts
* Includes an XML file that enables you to import dummy content and placeholder images with examples of slider images, portfolio items, blog posts and all the shortcodes examples.
* WordPress built in automatic thumbnail generation and image resizing (no more timthumb incompatibilities and no need to set custom fields, all automatic)
* Menu Manager – Powered by WordPress 3.0+ system
* Gallery and Portfolio Templates that use Lightbox
* Many Custom Widgets (all multiple instance)
o Popular Posts widget with images
o Recent Posts widget with images
o Recent Comments widget with avatars
o Twitter widget
o Flickr widget
o Testimonial widget
* 6 Sidebars
* 30 shortcodes
* WP 3 .0 Compatible Menus
* Threaded Comments & Gravatar Support
* PSD Files included
* Well Documented
* Powerful Admin Theme Options
o Header Settings
+ Custom Logo
o Styling Settings
+ Background Selection
+ Cufon Font Selections
o Frontpage Settings
+ Main Page Twitter
+ Auto Advance
+ Transition Speed
+ # of Posts
+ Effect Selection
o Blog Settings
+ Category Selection
+ Breadcrumbs
+ Featured Image
+ Add/Remove Search Form
o Single Post/Page Settings
+ Featured Image
+ Share Links
+ Author information
+ Related Posts
o Edit Post Types
+ Create custom post types
o Footer Settings
o Footer Sidebar
o Copyright Text
o Google Analytics