Views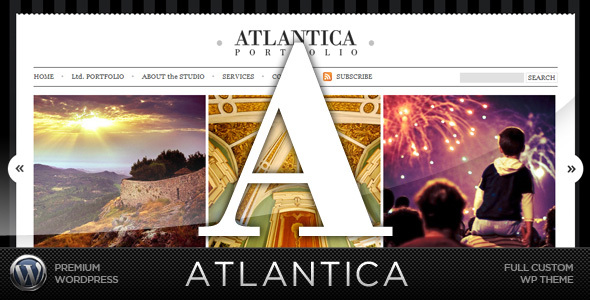 Total Download: 1/483
Theme Features
Atlantica Details:
Premium WordPress Template | 6 Color Styles | Custom Admin Panel
Now version 1.4 with several major improvements and features!
Updates include: Enhanced Slider Options, Homepage "Static Page" Improvements, Tons of updates, CSS fixes, and speed enhancements, Full FAQ Section for the top customization requests!
This theme is a complete WordPress Theme, designed from the ground up to function first and foremost as a portfolio, then as a comprehensive WordPress theme that can be used for just about any site that needs a beautiful layout. This theme is ideal for artists, designers, photographer, and other creatives that are in need of a portfolio template that is professional and "to the point". Even if you don't need the huge image gallery page, this template will also work great for sites that need to showcase a few images above each content-page in a slick, sophisticated way. Here's what you get with your purchase:
1. 6 uniquely styled themes (Classic, Vintage Light, Vanilla White, Sky Blue, Dark Grunge, Desktop Wood).
2. All Core Page Templates (Home, Content Page, Image Gallery, Blog Post w/ comments styling, Search/Results, 404, and a Contact Form)
3. Custom Admin Panel
4. jQuery Lightbox
5. jQuery Thumbnail Gallery Slider
6. jQuery Homepage Slider
7. jQuery Subpage Mini-Slider
8. Gracefully degrading code (for older browsers)
9. All Layout PSD Files
10. All Sliced PSD files (for easy re-skinning)
11. Favicon Ready (just overwrite the browser icon with your own)
The Custom Admin Panel features:
1. Custom stylesheet selection (dropdown).
2. Custom Logo entry.
3. Feedburner ID for subscriptions.
4. Custom Homepage Email graphic and address.
5. Optional 1024 Stylesheet opt in.
6. Optional Comments Counter.
7. Custom footer copyright text.
I have also provided very extensive documentation on how to install and use this theme. If you need support or spot something that can be improved, please send me an email via my profile page.
The Classic version of the theme is shown in the Live Preview – view the additional colors below. Note that the other files below are just HTML previews, not the full WP previews.
Desktop
Classic
Vintage
SkyBlue
Grunge
Vanilla
The fonts used in this theme are all generic fonts that are found on all OS's. The only exception is the use of the font, Bodoni, for the logo image. Bodoni is part of the Adobe Font Family.
The layout is set to be 960 px wide with a sidebar that fits several 125×125 ads perfectly (ideal if you or the client wants an ad block), and incorporates many features ranging from a product or image galleries to blog posts.
Open Source Code Used:
SIFR
PrettyPhoto
SlideViewer
jQuery
jCarousel