Views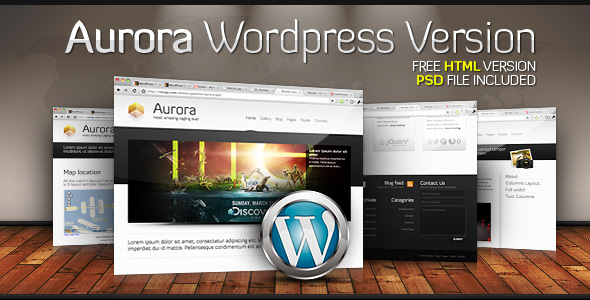 Total Download: 1/371
Theme Features
Aurora Details:
The "Aurora" WordPress version is my best project ever! Business site, Blog and Portfolio in one. Layout is designed for companys which love celan, crispy and professional designs. Each page was designed step by step with details. The package contains 6 full pages with 10 color schemes!
* Homepage
* Gallery – with tabbed navigation between galeries
* Blog
* Post – with comments
* Text page – with tabs to navigate (can be with or whitout header)
* Layout schemes – here you have predefined columns (can be with or whitout header)
* Quotes, paragraphs with images, headlines
Every page is fully layered and organized with proper names.
Fonts
The theme uses mostly font Helvetica. Headings are using Diavlo (free).
Icons
To make the layout looks even more professional in the theme are included Icon Sets released on the GNU General Public License or Free for commercial use.
* Black and Blue
* Social Networking