Views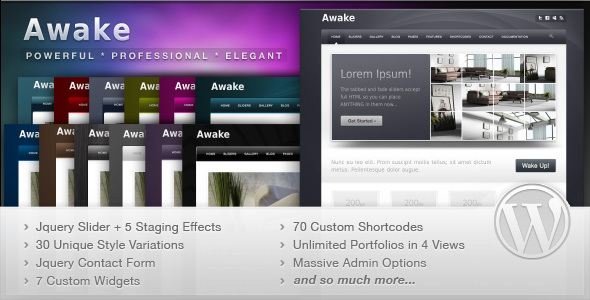 Total Download: 4/8522
Theme Features
Awake Details:
Awake is a Powerful Professional Premium WordPress theme. It comes with an intuitive easy to use admin panel giving you full control over every major design element throughout your site. Whether you need to add custom sidebars, edit your homepage content or change your footer column layout you'll find just the option you need when you need it.
Awake also comes with an impressive easy to customize homepage slider with two transition effects and five staging options.
Need an image gallery or slideshow on every page? Want to embed a widget into a page? You can do all this and more using simple content shortcodes.
Creating your website has never been easier with Awake.
Theme features:
* Versatile jQuery Slider
– Populate with WordPress Categories or Custom Defined Images
– Accepts Html & shortcode
– Two transition effects – Fading or tabbed
– 5 Different Stage Layouts all easily manageable through admin area
– Drag and Drop Interface to Reorder Images
– Image Preloader
– Option to display on every page
* WordPress 3.0 Ready
– Includes full support for WordPress's new Navigation Menus
* Multiple Style Variations – Select from over 30 Custom CSS style variations from Admin Area
* 70+ Content ShortCodes
– Style your Post or Page content easily
– ShortCodes include, Image Gallery, jQuery Tabs & Toggles, infinitely nest-able column layouts and many more
– Easy to insert from WordPress Wysiwyg Editor
* Custom Sidebars
– Create as many custom sidebars as you like
– Can be applied on Post or Pages
* Custom Widgets
– 7 Custom Widgets (Flickr feed, Twitter feed, Popular & Recent posts, SubPage navigation Contact Us & Contact Form)
– All widgets support multiple instances
* Ajax Contact Form – Add contact form to any Page, Sidebar or Footer, just enter you email address
* Social Bookmarking
– Built in support for Social Bookmaking on Blog Posts – Bit.ly API support for URL shorting
* Breadcrumbs Navigation
* About Author Box on Posts
* Related and popular post modules
* Nested comments
* jQuery Drop-down menu
* Font Replacement (cufon)
* Huge Tabbed Admin Area
– See SCREENSHOTS
* Layered PSDs are included for easy modification
* Extensive Documentation Included
31 Color Schemes:
* Black Glass Mosaic
* Black Glass Space
* Black Glass Space Blue
* Classic Silver
* Classic White Lights
* Coffee
* Copper
* Deep Sea Green
* Earthy Green
* Frosted Glass Aurora
* Frosted Glass Wood
* Glossy Black
* Glossy Blue
* Glossy Green
* Glossy Purple
* Glossy Red
* Glossy Teal
* Hot Pink
* Navy
* Primary Blue
* Primary Green
* Primary Orange
* Primary Purple
* Primary Red
* Rich Black
* Sienna
* Silver
* Slate Grey
* Soft Purple
* Soft Teal
* Teal