Views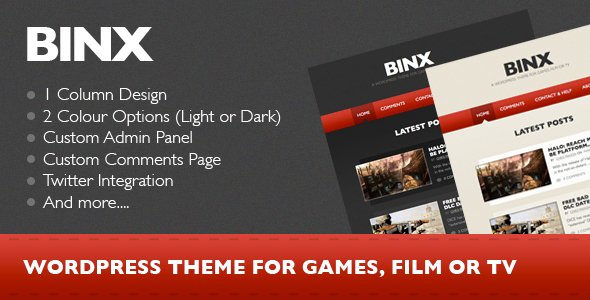 Total Download: 9/606
Theme Features
Binx Details:
Binx is a WordPress theme for anyone who loves to write about games, film or tv. This is a one column theme that uses imagery to give each post a unique identity and is available in two colours; cream or dark grey.
Binx has a unique comments page that shows all of the most recent comments across all blog posts and also Twitter integration to pull in the latest tweet from your Twitter feed.
FEATURES
* Choose an image for each post to show across the whole blog
* Choose from 2 colour themes; light or dark
* Unique "comments" page to show the most recent comments from all posts
* Twitter integration
* Custom admin settings panel allowing you to customise the theme without touching any code
* Choose between a text logo or image without editing the code
* Custom jQuery slider for most recent posts
* Threaded comment ready (maximum of 3 levels deep)
* Out of the box support for the Subscribe to Comments plugin
* Super clean and lightweight HTML /CSS
* Browser support for IE7 -8, Firefox 3, Safari 4 and Chrome
PLUGINS REQUIRED
Binx requires the Simple Post Thumbnails plugin to be installed to make sure you can assign an image to each post. This plugin requires the GD library, which is available with versions of PHP at or above 4.3.