Views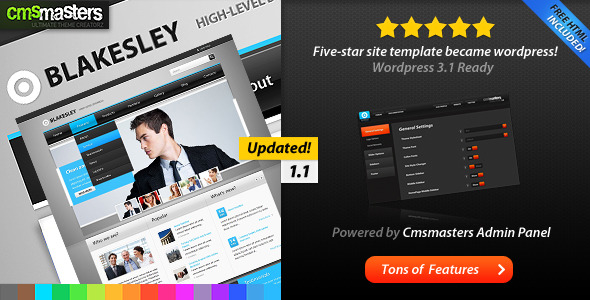 Total Download: 71/7707
Theme Features
Blakesley Details:
Cmsmasters proudly presents: Blakesley – Business & Portfolio WordPress. Easy to customize site template for any website solutions.
Free Updates
December 20, 2010 – 1.1 Update
* Significantly reduced site loading time (optimized images, scripts, fonts)
* Significantly reduced admin panel loading time (optimized images, scripts)
* Optimized gallery and portfolio templates
* Fixed: Latest Portfolio Items and Latest Products widget in Safari and Chrome
* Fixed: comments padding
* Fixed: godaddy hosting Internal Server Error issue
* And some other little fixes…
* Added: Logo site title and description fields
* Added: Translation Ready: Translation panel
Changelog
* December 20, 2010 – Blakesley 1.1.
* December 16, 2010 – Blakesley 1.0 Released!
Product Features
* Cross Browser Compatible
* Ipad & Iphone compatible
* 3 Cool home sliders with Video slider
\\ \\ \\ \\
* Awesome auto-width, drop-down and multi-level website navigation
* 20+ page templates
* 16 color schemes (try demo)
* 30+ shortcodes
* 6 custom post types
* 12 blakesley widgets (two styles: default and for black bottom area)
* 6 Cufon fonts
* cmsmasters admin panel
# DEMO -Content included
# Ajax sortable portfolio and gallery (choose layout, number of columns by defalt, sort by date, name and categories)
\\
* PrettyPhoto 2.0 lightbox for portfolio/gallery pages
* Bottom content Toggle for additional content
\\
* Ajax contact form shortcode with full validation
* Super-detailed help
* Full Support
* FREE HTML Version included ($17 value)
* 24 PSD Files
* Quick Updates
* And more.
Testimonials
For those considering buying this theme, stop thinking and just buy it! I purchase themes on a commercial basis and have bought countless themes over the past two years from ThemeForest. What separates the good designers from the brilliant ones is not only the quality of their work and themes, but the quality of customer service they offer to their clients. I can say without any hesitation that Cmsmasters excel on both fronts!
Bonus! HTML version included
\\
* W3C Valid HTML and CSS
* Cross Browser Compatible
* 3 Cool home sliders with Video slider
* Awesome auto-width, drop-down and multi-level website navigation
* 34 (!) pages
* 16 style variations (try demo)
* Ajax sortable portfolio and gallery (choose layout, sort by date, name and categories)
* PrettyPhoto 2.0 lightbox for portfolio/gallery pages
* Bottom content Toggle for additional content
* Ajax working contact form with full validation
* 6 Cufon fonts
* 404 error page
* Sitemap
* Choose Right or Left sidebar or Full Width
* Typography page
* Columns, Infoboxes, Tabs, Toggle and Accordion
* WordPress ready: Shortcodes
* Full Support, JavaScript-based help
Bonus! 24 FREE PSD 's
\\
We working hard every day to give you the product of premium quality, please be so kind and give us the highest score. If you do not think that we deserve this, please let us know and we will do our best to make you happy.