Views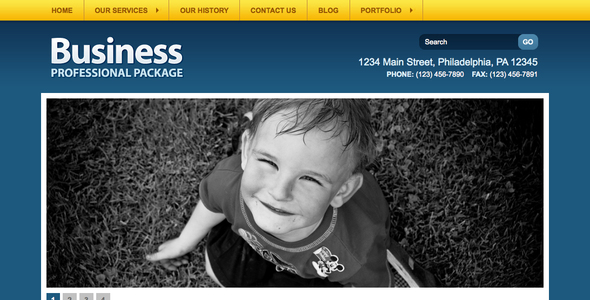 Total Download: 0/486
Theme Features
Business Professional Details:
2.5 Release Notes:
1. New dashboard panel to notify you of any updates
2. Auto-rotate is now an option for the homepage gallery
3. A few more IE bugs squashed, we should be good now
4. Contact Form 7 styling now included for easy contact form setup
What you Get:
1. Two themes in one, Blue & Green and Blue & Orange
2. Fully layered and detailed PSD
3. Logo Template file
4. Very well documented PDF instructions, so it's easy to setup and customize.
General Features:
1. Clean & Valid Code
2. SEO friendly – Search engines see the content before the navigation (in the code)
3. NEW : Dashboard panel to notify you of any future updates
4. Tested in all major browsers
5. "Widget-Ready" with built-in custom styling (Calendar, Archives, etc.)
6. All major page templates included, including the 404 page
Tabbed Custom Admin Panel
1. Custom Text Fields for Homepage Text, Address, Phone and Fa
2. NEW : Auto-Rotate option to rotate the homepage gallery
3. Logo Customization (PSD Template Included for Custom Logo Graphic)
4. Switch between the different styles with a simple radio button selection.
5. Easy Category setup
6. Two Category template styles to choose from (Blog and Gallery)
7. Custom Post Fields for thumbnails and a "Featured Post" toggle checkbox
And More…
1. PrettyPhoto lightbox integrated for thumbnail popups
2. jQuery powered, paginated slider on the homepage for featured posts.
3. Smart Image Resizer implemented for automatic thumbnail generation
4. Custom comment styling and multi-reply style included
5. Multi-level drop down jQuery-powered main navigation (pages and categories)