Views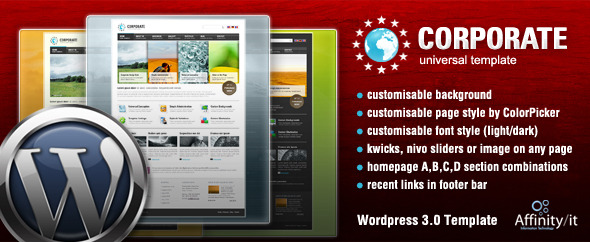 Total Download: 26/6720
Theme Features
Corporate Easy Details:
Template is designed and developed with a simplicity of administration in mind. Whole website will be up and running in 5 minutes. We have developed autoinstall script, that will prepare you a website that will look exactly the same as our demo site in ONE CLICK . The only thing you will have to do is write your own content
Template will be under continuous development. Purchase the template and get all updates for free.
The main features are:
* Everything can be configured extremely easy using wordpress admin panel.
* 2 different sliders or static image
* Extremely universal design
* Possibility to set any color for main content background using colorpicker.
* Ability to select any background image and set any background color you like using colorpicker.
* Two font color schemes: light & dark
* Slider can be used on homepage, standard pages or blog posts
* Google Analytics ready
* Various shortcodes for content boxes
* Easily customizable homepage, individual sections can be simply turned on/off using admin panel.
* Widgets ready sidebar and footer.
What will you get?
* Over 110MB of our work
* WordPress 3.x template
* 7 PSD files
* All background images used in the live preview!
* Detailed documentation
Versions
* v1.3: 7th of October 2010:
o Fixed issue with wordpress theme auto-upgrade.
o Minor CSS fixes.
* v1.2: 6th of October 2010:
o Google analytics support is now included.
o Styles for new sidebar widgets.
* v1.1: 5th of October 2010:
o XML data export included.
* v1.0: 4th of October 2010:
o Template release
Background color combinations included in the package:
White, grey, black, light blue, dark blue, light green, purple, gold and yellow. You can easily replace the background image in order to get other colors like red and violet as well.
Template can be used for any business:
Hotel & hospitality, restaurant, real estate, marketing company, blog, cms, portfolio website, software & computer sales, information technology, travel & tourism, solicitors, car business, music industry, food & drinks, human resources and personal relations organizations, school, university and college websites, science, magazine & community websites, blog and many more.
Creative Commons Images Used
* http://www.flickr.com/photos/davidchief/1306006614/
* http://www.flickr.com/photos/llamnuds/2497963146/
* http://www.flickr.com/photos/atomicjeep/27150533/
* http://www.flickr.com/photos/28481088@N00/2730732325/">href="http://www.flickr.com/photos/28481088@N00/2730732325/">http://www.flickr.com/photos/28481088@N00/2730732325/
* http://www.flickr.com/photos/leader_maximo/2889937934/
* http://www.flickr.com/photos/tjt195/30916171/
* http://www.flickr.com/photos/nwardez/3804945143/in/pool-creative_commons-_free_pictures
* http://www.flickr.com/photos/alainbachellier/4431659829/in/pool-creative_commons-_free_pictures
* http://www.flickr.com/photos/charlymorlock/4632697745/in/pool-creative_commons-_free_pictures
* http://www.flickr.com/photos/tpenalver/4632803323/in/pool-creative_commons-_free_pictures
* http://www.flickr.com/photos/dr_tr/4709215117/in/pool-creative_commons-_free_pictures
* http://www.flickr.com/photos/daarkfire/94195156/