Views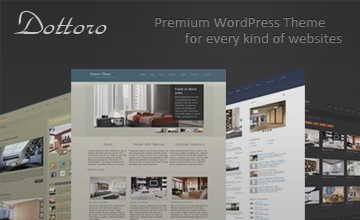 Total Download: 19/715
Theme Features
Dottoro Theme Details:
The theme provides a highly flexible environment that enables creating every kind of websites, from simple blogs to fully-fledged business websites.
Our goal was not only to develop a theme that utilizes all the features of WordPress 3 but to provide a service, the Theme Editor that enables any common user to easily create a modern and attractive website.
With the help of the Theme Editor, you can easily customize the look of even the tiniest component of your website without having to bother with codes and web programming.
You can customize the appearance of the theme before even downloading it. Also, after having your theme uploaded to WordPress, you will still be able to access the Editor through your theme's admin panel.
Thus you get a chance to modify the appearance of your theme while getting a real time preview with your actual website content.
You can save your designs and activate them with a few clicks anytime; thus you can change the look of your website as often as you need.
Some of the theme main features:
– Custom Post Types
Additionally to the Blog post type, the theme supports two further post types, News and Portfolio.
– tags and categories are post type dependent
– different permalink structure to every post type, making the types which your contents belong to visible in the URLs of your website.
– widgets also support post types; e.g. for the Recent Posts widget you can set the desired post type, but you can also set it to post type independent mode
– 12 Extra Widgets
The theme contains 12 additional widgets. Some of them are fully developed by Dottoro, while others are extensions of standard WordPress widgets.
Most of the Dottoro widgets have icon and skin support – for list-type widgets you can set list icons, for Tab widgets you can customize the appearance of tabs.
– Custom Widget Areas
You can add as many custom widget areas to your theme as you want and you can edit the layout of your widgets in a widget area with an easy to use wizard.
You can set custom widget areas on the sidebars, footers, subheaders and content of all pages which puts you in full charge of the appearance of your website.
– Custom Subheaders
You can have a different content in the subheaders on every page.
The theme provides a couple of useful ready-made templates but you can always create your own custom subheaders to your pages.
The contents of the subheaders can be edited the same way as the contents of your pages and posts.
– Slideshow Support
You can create and edit your slideshows in a wizard similar to the WordPress menu editor.
Slideshows can contain images, videos, pages and posts or totally customized slides.
Slides can be edited the same way as the contents of your posts and pages.
– Web Fonts support
Dottoro Theme supports generic and custom fonts as well.
Along with web-safe fonts you can add to your theme any of the fonts of the Google Web Fonts library or your own custom font families.
Custom fonts can be uploaded via the theme admin page and can then be applied in the Theme Editor.
– Animated Menu support
Some properties of the theme's menu can be customized in the Theme Editor, while others in your theme admin panel.
The Theme Editor contains pre-defined menu skins that you can further customize according to your needs.
On your theme admin panel you can also choose from various visual effects to enhance the appearance of your submenus.
– 70+ shortcodes
Shortcodes enable you to place a high variety of components (buttons, tables, tabs, tooltips, etc.), widget areas, widgets, slideshows, media galleries, videos and other content on your pages.
– Large number of theme options
Options are placed where they should take their effect. According to this, you will find settings options on every post and page, there are post type dependent features and general options as well that apply to the whole website.
The theme and the Theme Editor are well documented and we are constantly improving our theme to ensure the best products for you.