Views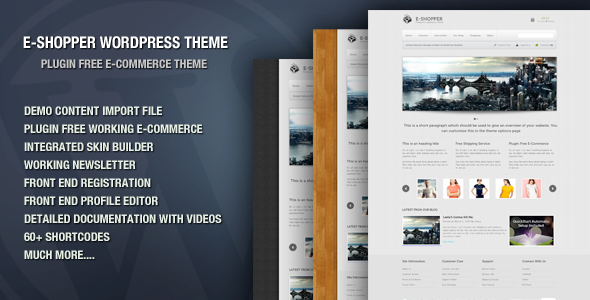 Total Download: 106/2597
Theme Features
E-Shopper Details:
E-Shopper turns wordpress website into a plugin free fully functional online store. Whether you're a WordPress Pro or just starting out anyone can use this theme and you don't have to touch a single line of code.
E-Shopper is the perfect solution if you have to setup an e-commerce store in no time.
You can also choose from over 30 fonts, using Cufon fonts. It also comes with video tutorials that walk you through every aspect of setting up your new website.
Powerfull Theme Options Panel
The theme has very powerful admin panels included, so that it can satisfy all different needs without having to change any code. You can have a look at the Admin Panel on the screenshots, where some of the admin settings are displayed as screenshots.
Flexible Home Page Layout
The layout of the homepage is extremely flexible and you have several options to add content to your homepage, you can enable or disable different certain parts of the layout and you can add content using the WordPress built in editor.
The theme comes with a detailed documentation, which includes examples, screenshots and all the main instructions you will need to customize your site.
Theme Features
1. Plugin Free E-Commerce Simple System
2. Built In Simple Skin Editor
3. Semi-Function user purchase/registration system
4. Front End Profile Editor
5. Front End New User registration
6. New fields (shipping informations) added to users profiles
7. Latest product homepage carousel slider
8. 2 Home Page sliders
1. Nivo Slider
2. BX Slider
9. Home page slider suppots videos
10. Automatic thumbnails
11. Blog Integrated
12. Enable or disable cufon font replacemente system
13. Easy cufon multiple font switcher
14. Working Ajax Newsletter
15. Working Ajax Contact Form
16. 60+ Shortcodes
17. Built In Shortcode editor
18. WP 3 .X Menus
19. WPML Translation Support
20. JQuery animated drop down menu
* Through our theme option panel you have full control over you menu, you can choose the hide & show effect the speed and much more…
21. Blog Post Sharing Bar
22. Breadcumb
23. Author Blog Post Bar
24. Dashboard template update notification
Shopping Cart Features
1. Payment Methods – PayPal or Google Checkout
2. Coupon System
3. Product Different Specifications – Size, Color and everything you want can be different for each product
4. Up to 6 additional product thumbnails
5. Set Global Tax Rate
6. Quantities
7. Custom write panels integrated in E-Commerce Post Type
8. Ability to add different pricing options to each product
9. Username Purchase Tracking
10. Tax Rates
Shopping Cart shipping features
1. Flat rate shipping
2. Individual product shipping
3. Individual Shipping flat price
4. Shipping increments by percentage
5. Percentage Shipping
6. Customers can choose the shipping method
Updates
Version 1.1 15/03/2011
1. Coupon System Added
Theme Support
For theme support send an email via themeforest Contact Form.
Please, include any information that you think will help us generate a speedy response, such as:
1. URLs or paths to affected scripts and pages
2. Username and password, if applicable
3.
Support requests will be generally answered within 24 hours Please note, the Message Board is not used for support.