Views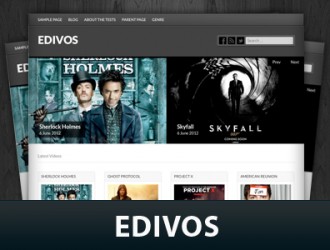 Total Download: 0/80
Theme Features
Edivos Details:
Edivos is a primarily a video listing WP theme. It also has the blog feature. This is a feature rich theme with features like custom menu, custom post type, taxonomies, theme options , jQuery slider etc
This theme supports video listing from from 6 different video sharing websites. The theme is built with metaboxes to make it easy fro your to create the video listings. To create a video listing follow the steps.
Go to video menu on admin panel and click"Add new"
Give the video a title and enter the video description in the post editor.
Add the image you want to use for the video thumbnail as the featured image.
Create or select a genre for your video.
Scroll down to video details metabox and select the site name from which you want to embed the video.
In the next field called "Video id" enter the ID of the video as it is given in the website.
How to find Video IDs from the url of these video sharing sites?I have included the sample video urls from these sites and highlighted the ID in RED.
Youtube – http://www.youtube.com/watch?v=atCfTRMyjGU
Vimeo -http://vimeo.com/44446467
Dailymotion – http://www.dailymotion.com/video/xk4i6t_spiderman-4-bande-annonce-vf-sd
Bliptv – http://blip.tv/upthecreek/episode-3-operation-sanitation-6176357
Veoh – http://www.veoh.com/watch/v27458410xQqKjjE2
Metacafe – http://www.metacafe.com/watch/8724501/dyno_run_2012_aprilia_tuono_v4/
The theme also has custom page template for creating a blog page when your homepage is used for video listing. For this just create a new blank page give it a title and select "blog" template under the page attributes. This page will then act as your blog page.