Views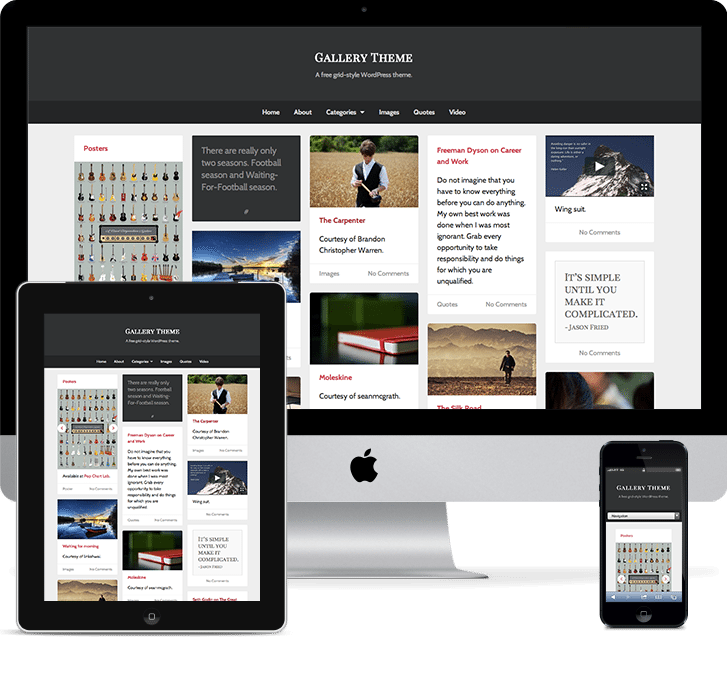 Total Download: 3/21
Theme Features
Gallery Details:
The Gallery theme has been rewritten from the ground up to be faster and easier to personalize.
Release Date: January 7, 2013

WordPress Version Required: 3.5+

Designed by: Chris Wallace

Supported Languages: English
Features :
Standard features included in both standard and developer license
ResponsiveThe new Gallery theme is completely responsive, making it easy to showcase your grid of images, videos, quotes, blog posts, and more on any screen!
Powered by SASS/Compass
The Gallery theme is extremely easy to customize thanks to the power of SASS and Compass. Simply change a few color values and you have a completely different look! The possibilities are endless!
Built-In Retina Support
Showcase all your images beautifully on retina devices! Owners of iPhones, iPads, Android devices and retina Macbook Pros will see stunning image quality when visiting your website.
No Theme Options Panel
What's with themes that throw 9 billion theme options at you? Gallery keeps things simple, allowing you to focus on your content and simple customization options built into WordPress.
Sticky Navigation
Scroll down the page and the navigation comes with you! Keep your visitors engaged and interested in clicking around with a sticky navigation bar.
Includes View.js Lightbox
Stop using ugly lightbox scripts! View.js was hand-crafted by Rogie King of Fine Goods Market and allows you to display images beautifully!
Screenshots Take a peeksy weeksy. Come on, you know you want to.
UpThemes Framework A powerful, lightweight theme options framework.
Settings API
The new UpThemes Framework takes advantage of the Settings API, making our theme options panel extremely lightweight and easy-to-use.
---
WordPress-Standard Media Uploader
No longer a separate piece of functionality, the Framework now uses the built-in WordPress media uploader for enhanced security and less code overhead.
---
Custom Layouts & Color Schemes
Many themes offer a choice of layout and color scheme. The UpThemes Framework makes it incredibly easy to select the layout and color scheme that's right for your website.
---
Live Theme Customizer
With the new theme customizer, the UpThemes Framework now allows you to preview every option, including instant header and background image updates.
---
Customizable Header and Background Images
Easily update the logo and background image or color instantly!
---
Multiple Language Support
Most themes come with multiple languages to choose from, and if not – we make it easy to add your own language.