Views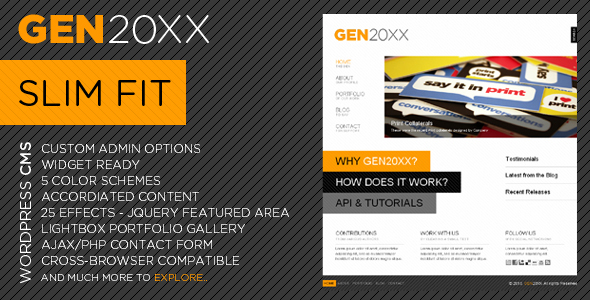 Total Download: 3/756
Theme Features
GEN20XX Details:
GEN20XX – Slim Fit WordPress for Modern Business
GEN20XX is a slim fit WordPress CMS , designed to meet your personal, portfolio, business and blog requirements.
Key Features:
* Custom Theme Options to manage your site functionality.
* Widget ready theme with exclusive dynamic sidebars for each of the five main pages. (i.e. you can have different sidebars on different pages). Additionally, you can override Secondary Content Area with sidebars too.
* 5 additional color schemes, configurable via Theme Options.
* Lighbox Portfolio Gallery, automated and managed via custom Portfolio Post Options.(You just have to create posts in portfolio category, and they will be automatically organized into a grid of photo gallery)
* Custom Sliding Panels for specific content on Featured Area of each Page. (fully configurable via page options)
* jQuery Accordiated sidebar lists which degrades gracefully upon non-availability of javascript.
* Built-in support for wp-pagenavi plugin. (i.e. if you install Page Navigation Plugin, this theme will automatically support pagination. Pagination css is included)
* Ajax/PHP Contact form with client and server side validation.
* Core Templates for Home Page and Contact Page.
* Supports 3 level Nested comments on blog pages.
* Cross-Browser compatible with IE6 support.
Known issues before you buy this theme :
Please read these issues carefully before buying this theme. I do not want you to spend your money without knowing these limitations/issues:
* The primary navigation bar has a fixed height in conjunction with the featured area. i.e. you can have only 5 main links in primary navigation. You can have unlimited sub-links inside pages though. This is because of the adaptation of this theme from it's XHTML version , which was not planned for a WordPress re-make. But a challenge for myself inspired me to do so.
* The portfolio gallery is fully configurable via Post options. This means that Portfolio items are posts. So, whenever you will switch on to another WordPress theme, these portfolio posts will appear in your Blog Posts. Since that another theme may not contain suitable code to process these posts in form of Lightbox gallery, they will appear as normal posts in your blog (unless you query & exclude them, OR you delete these posts).
* Rest, this theme is developed on WordPress v 2.9.2 and works fine as in the live preview. Last but not the least, I am there to assist and help you with any issue regarding this theme.
best,
SaurabhSharma