Views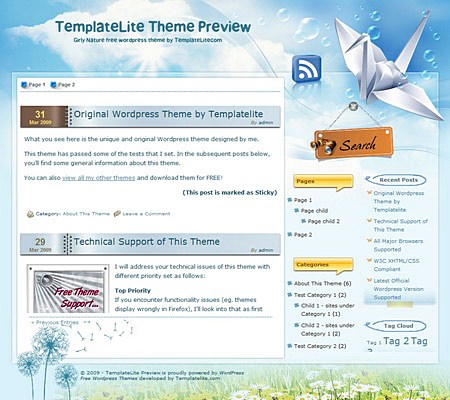 Total Download: 1/178
Theme Features
Girly Nature WP Details:
Latest Version: 3.00
Added on: 2009/07/17
Most of my themes are gender-neutral. This latest one that I release is the most feminine one. Hence, I named it "Girly Nature".
I have released 20+ themes over the last 10 months and my style has changed quite a lot. I am now planning for facelift for some of my themes. A plan is now in place to add new features and new look to some, if not all of the themes. Be sure to subscribe to this site for the next exciting changes!
The following is an example of a custom design of the Grunge Style theme.
Main Features
– Free forum support. visit Girly Nature forum
– Different design for sticky post feature
– Compatible with IE7, IE8, Firefox, Chrome, Safari, Opera
– W3C XHTML and CSS compliant
– SEO ready
– Gravatar enable
Blog Title and Description
The demo is showing a special font as below:

By default, after you install the theme, the blog title and description are showing the Arial font.

You can change the font style by following this instruction:
Part 1: Modifying Font Style
– Download this PSD zip file (also include the font that I use)
– Extract and open the PSD file in the Photoshop/ImageReady/Gimp/PaintShop program
– Change the title and description using your desired font (you are free to modify the header image if you want)
– Save the image using this name: bg_header.jpg
– Upload the image to your server in the "/styles/grunge/" folder
Part 2: Activating the Style
– Login to your WP admin
– Go to the options page of the Girly Nature theme under "Appearance -> Girly Nature"
– Find "Theme Style" under "Layout Setting"
– In the pull-down menu, select "grunge.css"
– Save the setting and go to your site to see the changes.
User Showcase
The followings are a few examples of nice modification of this theme from other users. You can view all the nice design in the forum theme showcase.
Change log
2009-07-17 v1.00 – Release
2011-2-27 v3.00 – New – Added drop-down menu, ad-widget, Options page, advanced automatic thumbnails, custom style, custom menu (works on WP 3+ onwards) and enabled localization (translation).