Views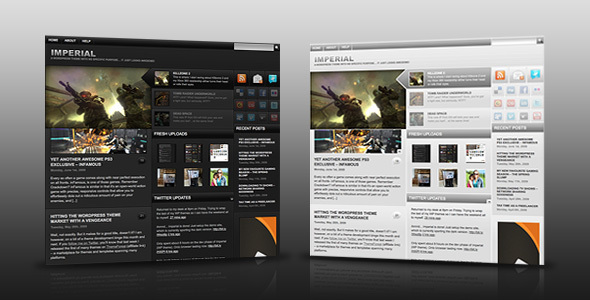 Total Download: 0/343
Theme Features
Imperial Details:
Imperial is a theme with no specific focus. It's not sure if it wants to be a personal blog, or house an online magazine. It's not even sure if it's black or white, for that matter!
Version 1.2 released 09/21/09
* Updated Theme Settings panel to include a description under each option.
* Fixed margins on post thumbnails for Internet Explorer.
* Fixed a style bug where a couple of dark images were being displayed in the comments area of the light scheme.
* Added text above the comment form if there are no comments on the post.
* Increased height of header-top.jpg images to make them 4x taller to allow for large logos.
Main Features
* 2 full colour schemes – dark and light.
* User specified "accent" colour can be chosen from a colour picker in WP-Admin for easy customization.
* Flexible photo area supports an image of any height. No need to resize, as the overflow is hidden automatically.
* Dynamic image resizing for post thumbnails used through-out the theme.
* Custom built theme settings panel within WP-Admin that allows you to customize the theme without editing any templates.
* Flexible logo space allows images up to 900px wide and any height. Image path and dimensions are entered in WP-Admin.
* Easily link to social networks you take part in, with support for 28 of the most popular sites.
* Both sidebars are widgetized.
* Custom widgets for the 3 main ad spots (4 125×125 buttons, 300×250 bigbox, 160×600 skyscraper). 728×90 leaderboard and 468×60 banner also supported.
* Super lean markup and CSS , makes advanced customization a pleasure.
* Tested on Windows and Mac – IE6 -8, Firefox 2 & 3, and Safari 3 & 4. Some details are toned down for older versions of IE, but nothing is broken.
* Support for Twitter Tools, FlickrRSS, WP-PageNavi, and Subscribe to Comments plugins out of the box.
* Original PSD included!
Requirements
* Imperial uses Tim McDaniels' TimThumb script for resizing the images used in the featured posts sections and in archive listings.TimThumb requires the GD library, which is available on any host sever with PHP 4 .3+ installed.