Views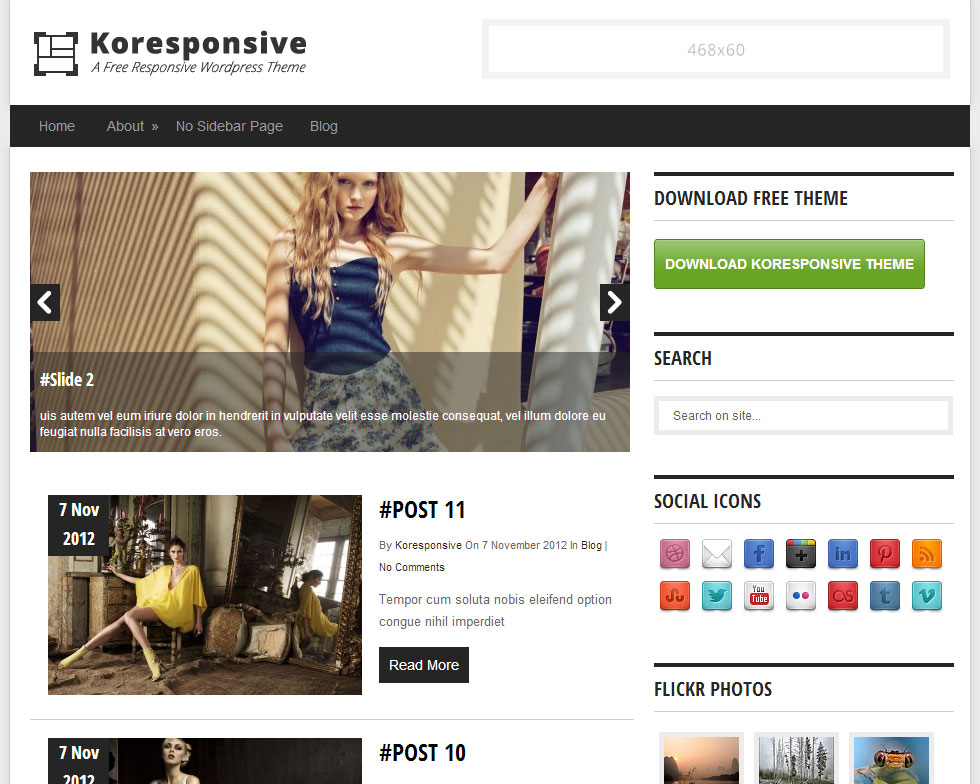 Total Download: 0/35
Theme Features
KORESPONSIVE Details:
KORESPONSIVE is a free theme for WordPress with a fully responsive design. This means that the layout can be adapted to the screen size of all devices, computers, smartphones and tablets.
The design is clean, minimal, flexible and built with HTML5 and CSS3.
Koresponsive is loaded with theme options.
Theme Features:
Responsive Design
Mobile and Tablet friendly layout
VALID HTML5 Markup and CSS3
Theme Options
The theme comes with a Management Panel that allow to control easily and without touching the code, the styles of the site, colors, navigation, the display of certain elements
2 Page Templates
Default style for two types of layouts, one with and one without the sidebar side.
Featured Slider
Through the Management Panel you can choose whether to display a slider on the homepage. The slides can be inserted from the control panel of WordPress
Related Posts with Thumbnails
For displaying content related to the current post.
Banner Manager
Simple Banner Management with the ability to insert custom code to manage advertising programs like Google Adsense
Localization
The theme is already localized in English and Italian and can be translated into other languages
Customizable Menu
Feeds Subscription Widgets
Social Icons
Facebook Like Box
Latest Tweets
Flickr Photos (users and groups)
DEMO AND DOWNLOAD AT: http://www.korevolution.com/risorse-gratuite-wordpress-seo/koresponsive-a-free-responsive-wp-theme/