Views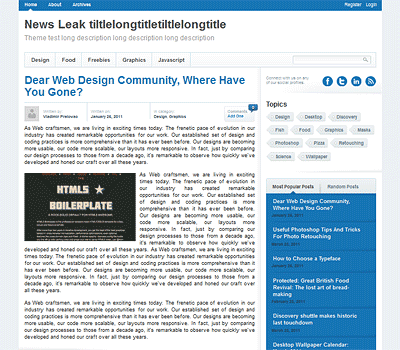 Total Download: 3/575
Theme Features
News Leak Details:
About News Leak Theme:
News Leak is a beautifully designed and custom coded WordPress theme filled with easy to use features. Here at ArchyStudio we follow the trends and created the theme which is perfect for blogs or any informative website that want to stand out from the rest! The theme designed to give the website professional look with ready to use Social networking support. Additionally, the theme is fully optimized for the SEO needs.
Get your website online today! Download our cool "News Leak" theme for Free!
Features:
Modern and beautiful web typefaces
100% CSS-based layout
2 columns with fixed width
Multi-browser compatibility. Firefox 3 , Safari 2 and IE7
Optimized for speed and loading time