Views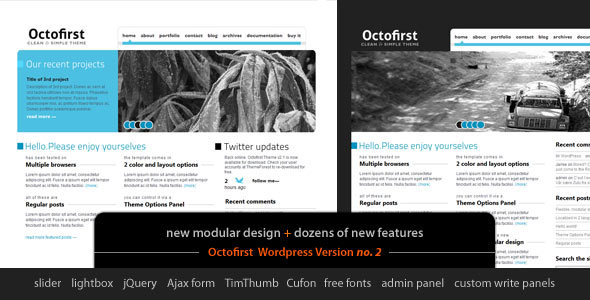 Total Download: 21/1276
Theme Features
Octofirst Details:
December 1st 2009 update
* corrected a menu bug regarding 2nd level dropdowns + improved hover functionality
Octofirst WordPress Theme version 2.3 available now – 14 Sep 09
* New option in admin panel to sort the homepage slides
* Fixed styling for strong tag, alignleft, alignright and aligncenter classes
Octofirst WordPress Theme version 2.2 available now
* parsing bug errors fixed; these were caused by tweets that contained links
* Only take twitter.php from the downloaded zip and replace your old twitter.php files in /octofirst and /octofirst-lightweight folders
* Manually delete the cache xml file as well, from the /cache folder
Octofirst WordPress Theme version 2.1 available now
* "headers already sent" error fixed
* Doctype changed to strict, Cufon line-height problem fixed for Firefox
* Cufon updated to latest version 1.03
* homepage design tweaked, improved visual hierarchy
* pagination bug fixed
* function for equalizing container height added
* IE6 & IE7 hacks removed, they are no longer needed
This is a WordPress theme which can provide both CMS and Blog functionality. Best for business / corporate / portfolio websites.
Demo link for version 2.1 of Octofirst WordPress Theme
* Octofirst 2 Light
It's a pain maintaining 2 identical installations, so the demo for the dark theme version is no longer online. Check the Documentation page on the Light Demo to see screenshots of the Dark theme version instead.
Full documentation & admin panel screenshots
click here to see them
3 screencasts for theme installation and configuration
* Screencast 1
* Screencast 2
* Screencast 3
Watch in fullscreen mode, quality is much better.Please note that there are many options still left unexplored in the admin panel, the theme can do so much more than what was covered in the screencast.
Octofirst 2 Theme features
* easy to customize
* theme options panel with color picker included
* custom write panels
* drop down menus
* 4 sidebar-enabled areas for widgets
* portfolio lightbox gallery. you can have as many portfolio pages as you want. TimThumb generates the thumbnails automatically
* modular homepage design, full-width option available
* modular homepage slider (which can be replaced easily with a static image), full-width option available, can take flv videos as well
* clean & valid code, lightweight, optimized for speed
* functional Ajax contact form
* dark/light/rounded/square versions, as well as a bonus super-optimized theme version (which you are demo-ing now),
designed to further reduce page load times. uses combined javascript files and CSS image sprites
* automatically rounded corners with jQuery in the rounded theme version
* Cufon font replacement which won't hurt your SEO
* free fonts used & included
* all PSD source files included
* Twitter plugin with xml file-based caching
* when Twitter is off, a sidebar for regular content is activated in its place
* tested on the 2.8 WordPress branch and the current release 2.8.4
* styling for up to 5 levels deep threaded comments
* Gravatar ready
* Scissors plugin for easy image resizing
* RSS feeds ready
* jQuery improved, degrades gracefully when Javascript is turned off
* comes with a bonus full-width page
* localized in 2 languages: DE & IT; po files included so you can easily generate more translations if needed
Theme Requirements
You need to have the GD library for php installed because TimThumb needs it. If you have php4, you will need to install a different version for the Twitter plugin which is included with your download.
Full support provided
contact me here
To import all the demo content use the xml file included in the /import folder of the theme(s)
If you already purchased Octofirst version 1
Please note that the contact form has been upgraded, it no longer needs the send_email.php file. The form processing is done in-page now.
Make a backup of your files first, before installing the new theme.
Your admin panel options will be resetted automatically once the new theme is in place, you will have to re-enter them. Luckily, this will take minutes at most.
If you used the XML import file, you need to go to Settings > Reading and set Home as the static frontpage.
If you did not use the import file, you need to create a page, assign it the Home template, go to Settings > Reading and set it as the static frontpage.
Also, please note that the translations are not perfect, so you can easily correct the pre-made german and italian localizations by using the po source files included.