Views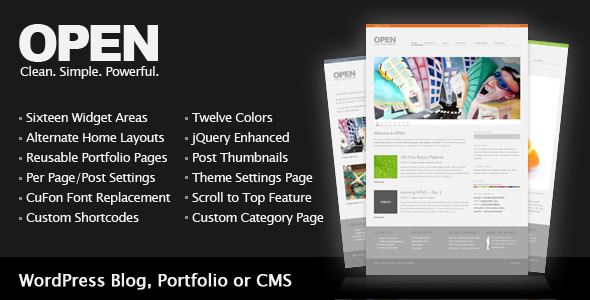 Total Download: 6/1245
Theme Features
OPEN by Cudazi Details:
This clean, powerful WordPress template is loaded with options and designed to make you look good! Explore the live demo to see the different layouts and options available.
Follow me on Twitter for the latest updates or through ThemeForest today!
OPEN has the potential to be used an unlimited number of ways and can easily become nearly any type of site, a blog, CMS or portfolio / gallery.
Remember, with WordPress – any page can be set as the home page and many types of content can be inserted into pages and posts.
The download files include extensive documentation to help you get started.
OPEN Features:
* WordPress Post Thumbnails handle image resizing in thumbnails and the image slider
* Easy to add/edit themes and styles (12 choices to start with)
* Reusable Portfolio/Gallery page template
* Useful shortcodes to place INSIDE the main content of a post/page:
o Display formatted messages with or without icons
o Latest posts by category
o Related posts
* Multiple Home Layouts and settings:
o One, two or three columns
o Optional content above or inside the main column
o Latest posts with optional thumbnail
o Promo speed, delay, categories, height, hide/show navigation
o Post categories to pull in and max displayed
* Single posts can have title and/or meta hidden per post. Perfect for portfolio items, videos, maps, anywhere you need a lot of real estate on the page without clutter.
* Extensive Theme Settings Page, here are a few main settings:
o Custom logo URL
o Add header/footer text
o Edit CSS / Themes
o Exclude pages from the menu
o Disable the dropdown menu
o Choose or disable CuFon font replacement
o Disable footer widget area
o Add CSS / JavaScript – Perfect for adding Google Analytics and small site tweaks without having to dig into the actual stylesheets
o Set post excerpt length default
* Custom Post Category Page – A reusable page that you add content and control which category or categories of posts to pull in that will appear in the main menu. (Very handy to create sub-blogs)
* 1 or 2 column layouts on a per-page basis
* Home Slider uses post thumbnails, custom fields or replace that area altogether with a widget/plugin
* Sixteen Widget Areas
* Handy "scroll to top" feature
* Drop down navigation menu
* Favicon Ready, just add your favicon.ico to the theme folder!
* Based on the 960.gs grid
* Print style included