Views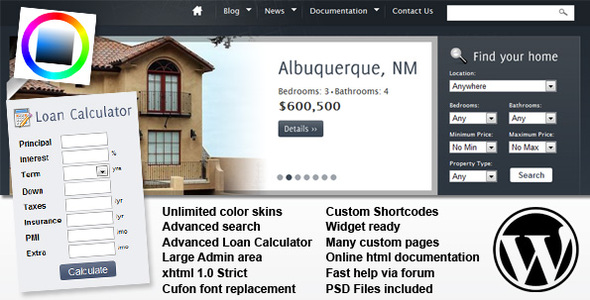 Total Download: 4/981
Theme Features
OpenHouse Real Estate Details:
Support Forum
For support, we recommend going to our theme Support Forum.
Lightening fast support: If you post on the forum, we get a text notification immediately, so we can assist you in the fastest possible way. (U.S. Eastern timezone 9am-5pm)
About Openhouse
Openhouse is the most powerful Real Estate theme on Themeforest. It includes a very powerful and flexible Search, where you can search by location, number of baths, beds, max price, min price, and property type. This theme also includes an extremely powerful Loan calculator which can be shown or hidden in Theme Options. The color scheme choice is unlimited. Simply supply a color, and the whole site changes, including all gradients and effects.
It also includes a very powerful and useful Loan Calculator. It even has a link to generate a complete amortization table which you can print out.
Other than property listing-type posts, this theme supports any other type of posts. You can have both a regular Blog, AND a news Blog. Each one can have unlimited subcategories.
Your blog and page content can visually be taken to the next level using our custom Shortcode tags. For example, easily add multi-column text, toggle boxes, drop caps, button links, and more quickly and easily.
For support, you can post here, send me an email, or use our Support Forum(which is recommended)
Notable Features
Note: the header "floor plan" background can be removed in Theme Options.
* Unlimited color schemes. Just choose any color and you're done! Gradients change also. Try the interactive demo.
* Powerful home Search (no plugin needed)
* 27 individual slideshow transitions
* Video support
* Google Maps support for each listing
* "Reduced" and "Sold" banners
* Contact form on each listing page
* Loan Calculator
* NO CUSTOM FIELDS !! (They are used silently in the background, but you don't need to work with them)
* Upload 1 image and theme repurposes it at various smaller sizes throughout site.
* Comprehensive Theme Options page. Practically everything customizable
* Cufon font styling
* CSS3 Progressive Enhancement
* Jquery enhanced interface
* Special typographic effects (see the sample posts and pages in the demo)
o Multi-column text (2, 3, 4 columns in any config)
o Toggle boxes (expand/contract)
o Drop Caps
o Text highlighting
o Link buttons (adapt to color skin)
o Back to Top links (with animated scrolling to top)
o Divider Lines
* Widget Enabled
* 6 Custom 'Page Templates'
* Hide or show just about any element in the site
* Customize the wording of any header or element.
* PSD files included
* Extensive HTML documentation (live and always up to date). Read the docs now by clicking the Documentation menu in the demo.
* Support Forum to get your questions answered quickly, usually within minutes (U.S. Eastern time, 9am-5pm). Support still given from 5pm til midnight.