Views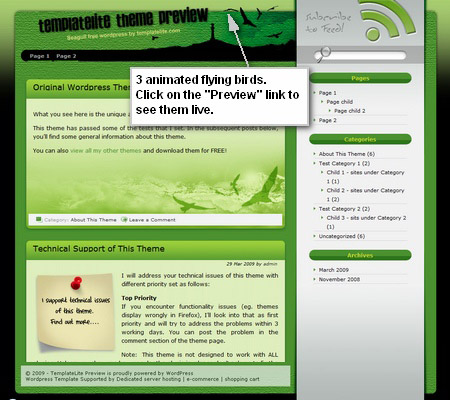 Total Download: 0/93
Theme Features
Seagull Details:
Latest Version: 1.00
Added on: 2009/04/27
I like freedom and this theme to some extent demonstrates this trait of mine. Why? Because seagull is a symbol of freedom and green signifies nature.
There are 3 animated birds flying around the header image. Also, the location of each post and article will be placed above "the sky and the seagull" to enhance the concept of freedom.
See live demo here.
I haven't got any animal related theme until this one. In May, I am going to release my second animal theme for dog's lovers. Subscribe to my Feed to get notified when it is released!
Main Features
– Free forum support. visit Seagull forum
– Different design for sticky post feature
– Animated header graphic
– Compatible with IE7, IE8, Firefox, Chrome, Safari, Opera
– W3C XHTML and CSS compliant
– SEO ready
– Gravatar enable
Blog Title and Description
The demo is showing a special font as below:

By default, after you install the theme, the blog title and description are showing the Arial font.

You can change the font style by following this instruction:
– Download this PSD zip file (also include the font that I use that is available free from fontstock.net.)
– Extract and open the PSD file in the Photoshop program
– Add the title and description using your desired font
– Save the image using this name: bg_header_new.jpg
– Upload the image to your server in the /images folder
User Showcase
The followings are a few examples of nice modification of this theme from other users. You can view all the nice design in the forum theme showcase.
View all my themes
Change log
2009-04-27 v1.00 – Release
2009-07-14 – Theme is compatible with WP 2.8