Views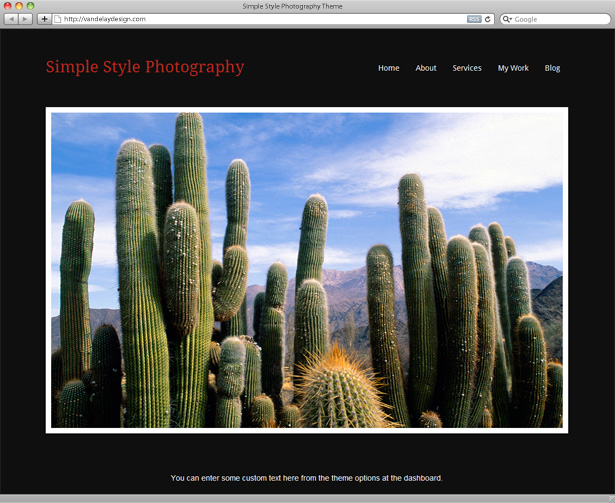 Total Download: 0/41
Theme Features
Simple Style Photography Details:
Our Simple Style Photography WordPress theme is now responsive! With this theme your website will be ready for visitors using smartphones and tablets in addition to desktops and laptops.
With the free Simple Style WordPress theme you can showcase your photos on a clean, professional website. The theme was designed in a minimalist style to allow for your amazing photos to take center stage. With either color scheme (light or dark) you can have a site that shows your photos in a stylish way.
Theme features include:
2 color schemes (light and dark)
Customizable slideshow on homepage
Customizable photo galleries
Upload your own logo, or display site name in text
Widget-ready sidebar
Responsive layout
The Simple Style theme gives you the ability to set up a customized theme without the cost. The homepage slideshow is perfect for showing off your work, and you can easily change the photos in the slideshow at any time. The transition effect can also be set right from the WordPress dashboard.
The theme comes with two color schemes, light and dark (scroll down to see more screenshots). You can create galleries for each of the different types of photos that you specialize in, and they are displayed in an attractive lightbox gallery.
With WordPress, your portfolio site can also include a blog. Each blog post can (optionally) include a featured photo that will be displayed above all of the content, another great way to showcase your work.
The theme uses WordPress's custom navigation menu functionality, so you have full control over the links that are included in the navigation menu. The menu is designed and coded to support drop downs. In the footer you can enter custom text, ideal for copyright notices and contact information.
Additional screenshots are shown below.
More Screenshots:
Example photo gallery
Example blog post with featured image
Homepage in light color scheme
Published July 24th, 2012 by Steven Snell