Views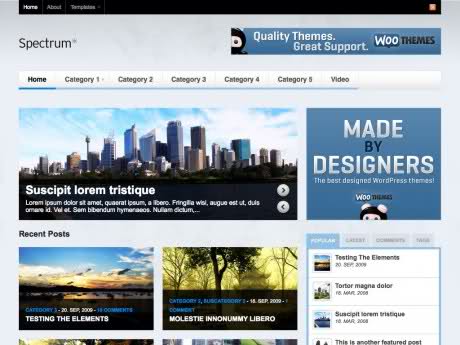 Total Download: 0/1739
Theme Features
Spectrum Details:
Unique Features
*
Custom Homepage
Custom home page layout with the above mentioned featured scroller, recent blog posts and older blog posts, along with 7 widgetized zones!
*
Featured Slider
A custom home page featured area to showcase your noteworthy blog posts. The slider is tag based so can include posts across numerous categories.
*
Custom Widgets
Custom Woo Widgets for use in the widgetized sidebar and footer regions: Post Tabber, Video, Twitter, Blog Information, Ads & Search.
* Spectrum Alternate Color Styles
Alternative Styles
10 delicious colour schemes to choose from. Option to change background color, upload background image, change color of links and buttons in options panel.
WooThemes Exclusive Features
*
Woo Custom Navigation
NEW! Our newly released Woo Custom Navigation is included in this theme, allowing you full customization over how your navigation should be structured in the theme!
*
Built-in SEO options
NEW! All our themes now include SEO options to help propel your site's search engine ranking.
*
WooFramework2
Last but not least, the highly functional WooFramework2 with updated options panel. The most easy to use theme backend available!