Views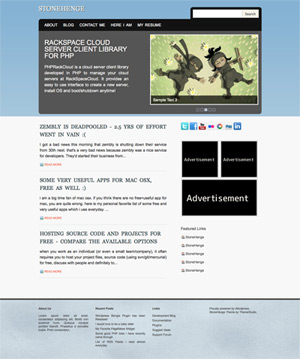 Total Download: 0/732
Theme Features
StoneHenge Details:
beautiful two column theme with excellent Admin panel and custom Homepage. Wp 3.0 ready.
# jQuery based Image Slider, fully configurable
# Widget Enabled (Sidebar and Footer)
# Custom Homepage with featured posts, advertisement & featured links
# Links to your lifestream sites on homepage
# Custom footer, sidebar and categories
# Support for WP 3.0 Menu system
# Easy to use and not-feature-bloated admin panel
# Beautiful page navigation
# Sidebar with tabified latest, commented and popular posts.
# Compatible with all major browsers.
# Simple yet elegant, Completeley Free!