Views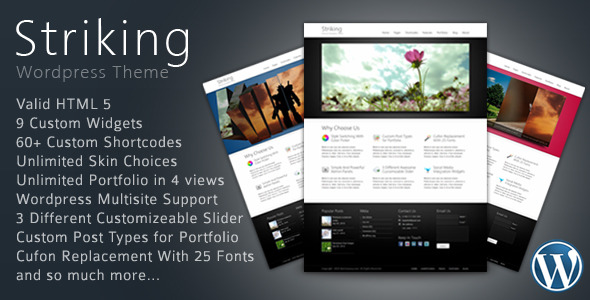 Total Download: 88/5998
Theme Features
Striking Premium Details:
Striking is a Powerful Professional Premium WordPress theme made for your Blog, Portfolio, Business or almost any other kind of website. It is incredibly easy to use with the admin panel, and give you full control over every major design element throughout your site. With the color and font options page, you can customize you website more than you could ever imagine.
Key features of the template:
* Valid HTML 5 .
* Cross Browser Compatible
* WordPress multisite support.
* Custom Post Types for portfolio and slider items.
* 3 different Slider with full control (nivo slider, 3d flash Image Rotator , accordion slider)
* Style switching with color picker and multiple layout and font options.
* Cufon Replacement font (25+ fonts ready for use).
* Dynamic Sidebars
* 60+ Custom style shortcodes (easy to use by Shortcode Generator)
* 9 Custom Widgets (Sub Navigation, Popular Post,Recent Post, Flickr, Twitter, Social Icon, Contact Form, Contact Info, Google map)
* Portfolio with sortable or paging support. From one to 4 columns portfolio styles.
* Video Portfolio support.
* Lightbox with video support (.swf, youtube, vimeo)
* Timthumb automatically thumbnail support
* Ajax Contact form( Add contact form to any Page, Sidebar or Footer, just enter you email address)
* About Author Box on Posts
* Related and popular post modules
* Nested comments
* Google Map Integration
* WordPress 3 Menu support
* jQuery Drop-down menu
* Breadcrumbs Navigation
* Page styles examples
* PSD files included
* Extensive Documentation Included
What they says
"Great, clean, well designed theme. It's so easy to change just about anything from the admin panel.
With the new possibility to change the slider height it's probably the most versatile theme I've bought on Themeforest so far.
If it were possible I'd give you 5 stars for support as well!
Good Job. "
– Alley_Cat
"I have purchased this theme and it is one of the best I have seen, nice and clean with amazing admin back-end options."
– almeria
"Just bought, nice job! Been looking for a great customizable theme that I don't have to spend tons of time with… 5 star!"
– audaciousdesign
"I must say your customer support has far exceeded my expectation thus far! Very impressed with your prompt service and super theme, as well as your ability to make changes quickly to improve an already awesome theme.
I was most attracted to the clean Valid code and modern stying, along with the shortcodes and cufon font replacement. There are too many boring themes out there doing the same old thing. Yours truly shines!
I am working on a project for a client who just loves this theme."
– fredromano
"This is hands down the best theme I have ever worked with for WordPress and the support is first-rate. Thanks for the phenomenal work. I am really enjoying the flexibility offered by your very well-considered admin interface. It goes much deeper thanks to the very granular control options for colors, fonts, and much more. I can't say enough what a pleasure it is to use this theme after some less pleasant experiences recently. Your admin framework is nothing short of amazing and my site looks beautiful!"
– repeater75
Striking Admin Panel Options
* General Options (take a look)
* Color Options (take a look)
* Font Options (take a look)
* Slide Show Options (take a look)
* Sidebar Options (take a look)
* Image Options (take a look)
* Homepage Options (take a look)
* Footer Options (take a look)
* Portfolio Options (take a look)
* Blog Options (take a look)
Theme updates
Striking version 1.4 is available now through the "Downloads" tab in your ThemeForest admin panel.
Version 1.5.1 – Oct.8th '10
Striking version 1.5.1 now is under review, maybe will be available 8-10 hours later.
* Added : Shortcode for Blog posts that you can display posts on frontpage
* Added : Captions for Nivo Slider
* Added : Shortcode Generator for Homepage content editor
* Added : left sidebar layout for blog
* Added : Slider item link to portfolio
* Added : More control for footer
* Changed : Styles for sidebar widgets
* Changed : Layout of subfooter to avoid linefeed
* Fixed : Homepage Content Formatting issue
* Fixed : Meta bar display issue in single post
Version 1.4 – Oct.7th '10
* Added : Control for Nivo Slider height (click)
* Added : Control for Blog Featured Image (click)
* Fixed : Category archive error in PHP4
* Fixed : Category archive error when use default permalink
Version 1.3 – Oct.6th '10
* Added : Added more control for styled framed box shortcode.
* Changed : compatible with PHP4
Credits
OpenSource Projects
* Piecemaker by Björn Crüger
* jQuery by John Resig
* jQuery ColorBox by Jack Moore
* jQuery gmap plugin by Cedric Kastner
* jQuery Kwicks plugin by Jeremy Martin
* jQuery Easing plugin by George McGinley Smith
* jQuery Nivo Slider plugin by Gilbert Pellegrom
* jQuery Quicksand plugin by Jacek Galanciak
* jQuery SWFObject plugin by Jonathan Neal
* jQuery Tools plugin by Tero Piirainen
* jQuery Tweet plugin by seaofclouds
* jQuery Multi Level CSS Menu #2 by Dynamic Drive
* iPhone-style Checkboxes jQuery plugin by Thomas Reynolds
* ZeroClipboard by Joseph Huckaby
* DD_belatedPNG by Drew Diller
* mColorPicker by Meta100
* cufon by Simo Kinnunen
* html5doctor.com Reset Stylesheet by Richard Clark
* TimThumb script by Tim McDaniels, Darren Hoyt, Ben Gillbanks
* Breadcrumbs Plus Plugin by Luis Alberto Ochoa
* WP-PageNavi Plugin by Lester 'GaMerZ' Chan
Graphics
* The Ultimate Free Web Designer's Icon Set by Vitaly Friedman
* Social Network Icon Pack by Komodo Media, Rogie King
* User Interface Design Framework by Webalys
* flickr creative commons library pictures by ajari, aussiegall, hamed, nattu, visualpanic, xjrlokix
Fonts
* Aaargh by Tup Wanders
* Andika Basic by SIL International
* Aurulent Sans by Stephen G. Hartke
* Blokletters by LeFly
* Candela by La Tipomatika
* Chelsea by Dieter Steffmann
* ChunkFive by The League of Moveable Type
* Cicle by La Tipomatika
* Colaborate by Ralph Oliver du Carrois
* Daniel by Daniel Midgley
* Droid Serif by Google Android
* Hattori Hanzo by Roman Shamin
* Imperator by Paul Lloyd
* Liberation Sans byRed Hat
* Nobile by Vernon Adams
* Oregon LDO by Luke Owens
* PT Sans by Paratype
* Quicksand by Andrew Paglinawan
* Segan by felinefury82@gmail.com
* Swansea by Roger White
* Tenderness by arro
* Titillium Text by Accademia di Belle Arti Urbino
* Vegur by arro
* Walkway by GemFonts
* luna by Carolina Mejia Villegas