Views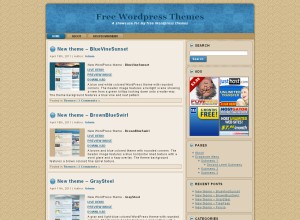 Total Download: 1/261
Theme Features
SwirlsAndSpirals Details:
A brown, blue, and white colored WordPress theme with rounded corners. The header image features a swirly blue string pattern with a checkerboard overlay. The theme background features a brown spiral texture.
– Encrypted footer.
– RSS ready.
– Widget ready.
– Gravatar ready.
– Tableless design.
– Valid CSS and XHTML code.
– Compatible with major browsers.
– Compatible with the latest WordPress 3.0.
– Multi-level drop down sub-menus in the menubar.
– Threaded comments supported.
– 2 columns with sidebar.
– Fixed width.
– Support for 125×125 banner ad plugins.
License: Creative Common 3.0, Theme Authors, Sponsored & Credit links in the Footer MUST remain intact as IS