Views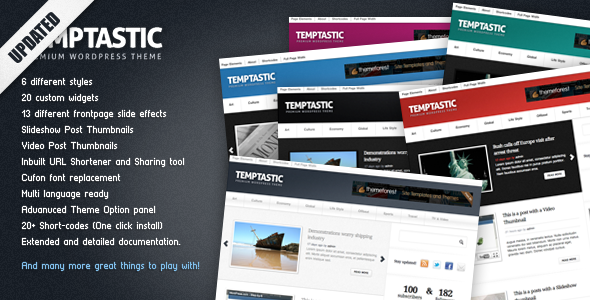 Total Download: 41/1399
Theme Features
Temptastic Details:
Temptastic is an advanced WordPress magazine theme with a ton of features. The theme has a brandable theme option panel, yes that's right. A option panel in which your able to ad your own brand, no third party logos and text anymore.
Temptastic also comes with 5 different styles, 20 custom widgets, 13 different front-page sliders, Slideshow Post Thumbnails, Video Post Thumbnails, Custom URL Shortener and Sharing tool, Popular post in between front-page posts, 3 Widget ready areas and lot's more great stuff to play with.
Update 1.01
* Added thumbnails to category, search and tag pages
* Added category name below titles
* Some minor changes
Watch the online help file before you buy
Feature Lists:
* Validated as XHTML 1 .0 Transitional
* 6 different styles – Blue, Clean, Dark, Green, Purple and Red.
* 20 custom widgets – Paypal Donation, Feedback widget, Video widget, Tabbed widget and more.
* 13 different frontpage sliders – Accordion, horizontal scroller, jQuery slider included and a unique HTML5 slider with 6 slides including grayscale, color burn and overlay effect.
* Slideshow Post Thumbnails – Ad slideshows in your posts through a inbuilt manager.
* Video Post Thumbnails – Ad Video Thumbnails within a snap.
* Unbranded Advanced Theme Option Panel – Add your own branding in a snap
* Custom URL Shortener and Sharing tool – Share your post link within seconds throughout our inbuilt URL Shortener.
* Popular post in between frontpage posts – Show off your popular posts in between your frontpage posts.
* WP 3 .0 + Custom Menus – Top and main are ready for you, both are multilevel drop-down ready.
* Widget ready areas – Footer, Header and Sidebar.
* Localization Ready – Translate Temptastic to any language you want, PO and MO are included.
* 20+ Short-codes (One click install) – Buttons, Accordion, Format, Lists, Tabs, Image frame, Modal boxes, Action boxes, Separators, Styled Tables, Quotes, Pull quotes, Push quotes, Drop caps and more.
* 15+ google custom fonts which you can pick from right inside our unbranded theme option panel – Droid, Kreon, Dancing Script, Gruppo, Cousine, Cabin, Copse, Droid Mono, Cuprum, Inconsolata, Cantarell, Lobster, Droid Sans, Yanone Kaffeesatz, Josefin Slab and PT Sans Narrow.
* PSD Files Included – Get your own style in by editing the psd.
* Extended and detailed documentation.
Credits:
* Image by stock.xchng
* Classy Social Media Icons by Jason LaRose
* Timthumb script
* Google web fonts
* Kriesi pagination code
* jQuery kwicks for accordion slider
* jQuery tools for horizontal scroller
Thank you so much for purchasing this theme. We're be glad to help you if you have any questions relating to this theme. No guarantees, but we will do our best to assist. If you have a more general questions relating to the wordpress themes on ThemeForest, you might consider visiting the forums and asking your question in the "Item Discussion" section.