Views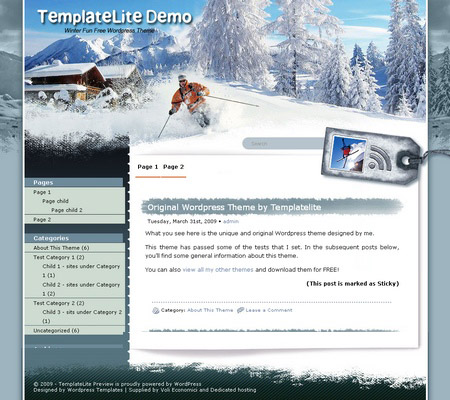 Total Download: 0/103
Theme Features
Winter Fun Details:
Latest Version: 1.02
Updated on: 2010/03/26
Last year, I asked for your suggestion about what you would like to see for my upcoming new themes. Some of you suggested themes that cover 4 seasons. I already had an autumn-style theme, Maple Leaf. This new one that I created is for the winter season.
For the theme users residing in the Southern Hemisphere like Australia and New Zealand, the Winter Fun theme becomes suitable for you this time of the year.
Main Features
– Free forum support. visit Winter Fun forum
– Nice background. Best viewed with a resolution of 1280px
– Compatible with IE7, IE8, Firefox, Chrome, Safari, Opera
– W3C XHTML and CSS compliant
– SEO ready
– Gravatar enable
Blog Title and Description
By default, the blog title and description are using the Arial font. You can change the font style by following this instruction:
– Open "header.php"
– Remove this code
<div id="blogtitle"><a href="<?php echo get_option('home'); ?>"><?php bloginfo('name'); ?></a></div>
<div id="subtitle"><?php bloginfo('description');?></div>
– Save the file and upload to your server
– Download this PSD zip file (including the font that I use, which is available free from dafont.com.)
– Extract and open the PSD file in the Photoshop program
– Add the title and description using your desired font
– Save the image using this name: bg_header.jpg
– upload the image to your server in the /images folder to replace the old one

User Showcase
The followings are a few examples of nice modification of this theme from other users. You can view all the nice design in the forum theme showcase.
View my other themes
Change log
2009-03-10 v1.00 – Release
2009-05-11 v1.01 – Move javascript to seperate .js file, modify the javascript to fix the height of dynamic content.
2009-07-14 – Theme is compatible with WP 2.8
2010-03-26 – Fix JavaScript problem in IE