Views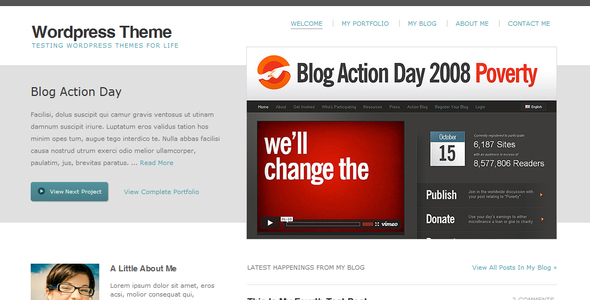 Total Download: 0/385
Theme Features
YourFolio Details:
A WordPress portfolio theme designed to be used as a personal online portfolio as well as personal blog. This theme has 5 different stylesheets to choose from, allowing the user different color and font options. The homepage is a dynamic mashup of your recent blog posts as well as your recent portfolio work.
UPDATE – 4.10.09
Updated files, fixed a few bugs people reported. Fixed non looping issue, collapsing issue, added an auto-rotating feature to the featured items area, added extended basic formatting support, and a host of misc updates.
Features Include
* Rotating JavaScript Featured Area on Homepage
* 2 Column Tabless (CSS Layout)
* Sidebar Widget Ready
* Valid CSS and XHTML
* Browser compatibility: All Major Browsers
* Seperate Portfolio Section
* Seperate Blogging Section
* Sidebar About Me Widget
* Integrated Flickr Showcasing
* 5 Built In Selectable Color Settings
* And Much More…
* NEED SUPPORT *
Please send me a direct message using the form on my profile page, as I receive an email containing your comments, and will be able to respond faster.