Views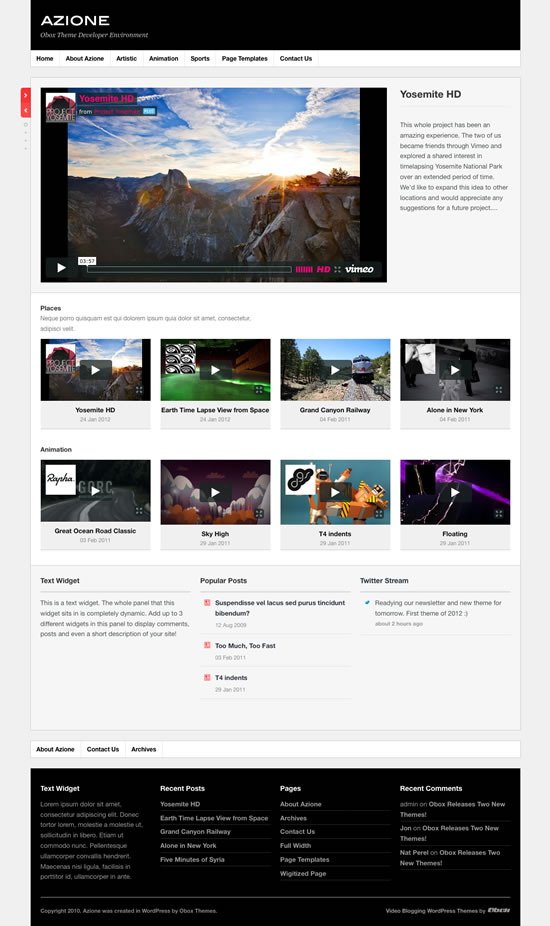 Total Download: 45/1098
Theme Features
Azione WordPress Theme Details:
This Theme Price Is Only $30 USD
Blog Description:
We are kicking off the new year with a lovely theme called "Azione" (Action). Azione is a theme for video bloggers, with a clean and minimal design, giving you huge scope to turn the design into anything you like. It's also flexible and features a neat little home page slider effect.
Azione Features
* Widgestised Home Page – Allows for unlimited videos to be displayed in a categorized format.
*Short URL Support – New addition to an Obox Theme, we are using Googles shorten url plugin.
* oEmbed Support – Simply cut & paste the url of your video and we will get the embed code for you!
* Perfect for HD videos – Give your HD videos the space and attention they deserve with a massive 940px wide view port.
* Works as a Standard Blog too! – If you want to use this as a normal blog with images instead of videos, it is 100% possible. We have made sure to include our standard image uploader with auto-resizing and filters.
* Light Dark Color Schemes – One Light and One Dark scheme. As a side note when you use the dark theme the video really is front and center, it's an Obox favourite.
OCMX Live is an advanced Framework which comes packaged with every Obox Theme, turning your WordPress site into an even more powerful content management system.
* Custom Logo Input – No need to delve into the code of your theme, simply upload your awesome logo with the click of a button.
* Page Templates – Our themes come packaged with multiple pages templates including Archives, Full Width and a Portfolio page.
* Menu Management – Organize your Menu Structure for super smooth visitor navigation. Choose what goes and what stays in your nav.
* Advert Management – Setup your BuySellAds adverts or run your own custom campaign, OCMX allows for complete control over your revenue system.
* Automatic Image Resizing – Using TimThumb to manage our theme image resizing you never have to worry about resizing your pictures when switching to our Themes.
* Ajax Comments – When a visitor submits a comment to your blog there are no page reloads. That means they can watch a video and comment at the same time.
OCMX comes packaged in this theme for free!
Documentation & Support
Please note that access to theme documentation and support forums is restricted to verified buyers only. Support times are 9am to 5pm Monday to Friday (GMT +2). In order to gain full access docs and support please be sure to register on Obox.
To login to Obox all you need to do is the following:
* Visit Obox Design
* Click Sign Up (top right of the page)
* Register your details
* Type in your ThemeForest purchase code in the right side bar in your profile
Note: We offer Support via our forums only, any other means of communication such as emails and tweets will be directed to the forum. Thanks peeps.