Views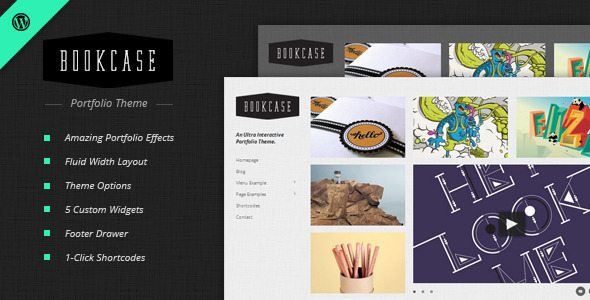 Total Download: 0/150
Theme Features
Bookcase Details:
This Theme Price Is Only $30 USD
Blog Description:
Bookcase is a uniquely interactive portfolio theme perfect for freelancers, web designers, photographers and videographers alike. Its user interactive interface delightfully enhances your most loved portfolio pieces.
Testimonials
Just dropping a note to tell you how gorgeous (and great to work with) theme you have here. I just purchased it and am lovin' it!! The documentation is also very well written! Kudos! Keep up the awesome work! Can't wait to see what comes next.
-Sibila
Great theme! I purchased this theme and 2winFactor was incredibly helpful with troubleshooting some issues I was having w/ intergrating 3rd party plugins. The theme is very flexible, and translates beautifully on many platforms. Great work and thank you for your really quick technical support help!
-Urbandog
I've commented about a question I had a few days ago. It ended up being a problem that was unrelated to the theme. 2winFactor STILL helped me and we got it figured out. This is some of the best technical support I've ever received… and I work for Apple.
-JustinMerm
I'm impressed by how on the comments page you seem to get back to everyone right away. How do you do that with so many people? You put tech support teams on other template sites to shame. They often take days and have several people.
-Niya C Sisk, Founder, Ritual Labs Design
Update – Version 1.5
Added optional pagination function to Homepage and Skills pages.
Update – Version 1.4
Added an option for a fixed, static footer.
Added Non-Google System fonts to font options.
Project's Skill lists now link to skill pages.
Skills comma glitch fixed.
Removed unnecessary field from contact widget in backend.
Skill css is now called before main style.css to remedy child theme css issues.
Update – Version 1.3
Increased child theme support
Theme is now more tolerant if images aren't the correct size: property of non-object error fixed.
Removed CSS3 transition causing animation repeat on page load.
Fixed Options panel typos.
Minor javascript optimization.
Update – Version 1.2
New Features
Now has the ability to create portfolio pages for specific categories.
iPad/iPhone Support and Fixes
Bug Fixes
Fixed bug that wasn't showing portfolio images for some users.
iPad bug fixes
Update – Version 1.1
New Features
Now Translation-Ready! .po/.mo files inlcuded.
Bug Fixes
Fullpage title bug fixed
Image scaling issue fixed that was squishing images for some users in the project slideshows
Bookcase WordPress Theme Features
Uniquely Interactive Portfolio
70+ Google Fonts
XML and SQL files included to load default content.
5 Featured Section Textures
Light and Dark Versions
5 custom WordPress widgets
Proprietary JQuery effects
Powerful Unbranded Theme Options Panel
Fluid width layout
WordPress 3.2 Ready (Menus & Featured Images)
Custom Post Types, Custom Image Upload Fields
Contact and quote request form toggle
Unique features slider – say goodbye to icon feature lists!
Shortcode Buttons – one click and your done.
Extensive Documentation and Support
Child Theme Support for Advanced Users
Translation-Ready .po/.mo files inlcuded
Much More! Check out the live preview!
Questions?
Shoot me an email via the form on my profile page, and I'll help you in any way I can!