Views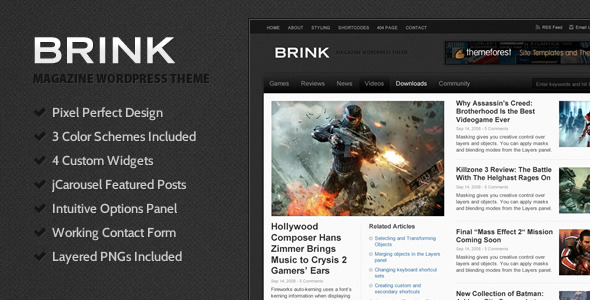 Total Download: 0/473
Theme Features
Brink Details:
Brink is ideal for website publishing a lot of articles across multiple categories. The theme uses dropdown menus, featured carousels and post thumbnails in a coherent and intuitive layout, making your content shine.
You can also tweak typography and adjust various settings via a Theme Options panel that seamlessly integrates into the admin.
The design also packs a punch and you can choose one of the skins that come bundled with Brink. Dark, green and blue skins are already available, a light skin is in the works and more will follow, based on your feedback.
I love this theme and you can be sure I'll do my best to keep the updates coming, so that you get the best bang for your buck!
News
The Light skin is ready (you can see it in the Live Preview) and will be part of the next update, as soon as I also finish coding the Clean skin.
Main Features
* Pixel Perfect Design
* 3 Color Schemes Included (more to come!)
* 4 Custom Widgets
* jCarousel Featured Posts
* Fancybox for WP Gallery
* Thumbnails Grid Archive
* Intuitive Options Panel
* Working Contact Form
* Layered PNGs Included
* Code Comments & Help File
Coming Soon…
Here's a sneak preview of two new skins that I will be releasing: a light skin to complement the dark skin and a truly clean skin.
I got a feeling many people were turned off by the gaming / dark / textured look and didn't realize Brink's true potential. So the clean skin will feature lots of white space, no noise or textures, being a true canvas for any type visuals. In fact, it will probably become the main skin and I will try to build on the functionality as well.
Next: a tutorial on how to create your own skin in < 30 min and hopefully other surprises.
Get In Touch
If you purchased one of my themes and need support, please use the contact form on the right of my profile page. If you need me to customize one of the themes for you, you can also contact me using the contact form on my website. Depending on my availability and the scope of your project, I will get back to you with a quote.