Views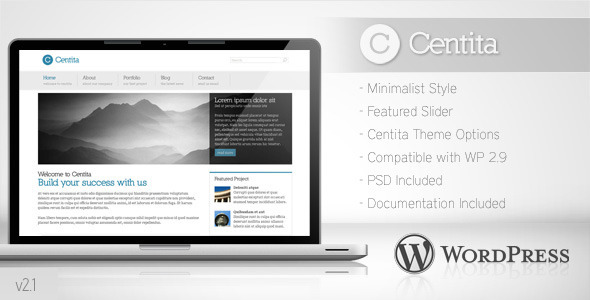 Total Download: 1/366
Theme Features
Centita Details:
This Theme Price Is Only $35 USD
Blog Description:
Centita is WordPress Theme with minimalist and elegant look that suitable for your professional corporate website, easy to customize and rich of features.
Changelog
2.1 version (09/29/2011) :
fixed slideshow custom permalink issue
fixed broken installation with the child theme
removed unecassary theme files
updated timthumb.php file
2.0 version (07/10/2011) :
updated all theme files to accomodate WordPress latest version features
updated theme structure
updated coding standard
updated theme options
updated the documentation
updated xml sample data
added many shortcodes with shortcode manager
added many new features to accomodate WordPress latest version
added post thumbnail for each section (slideshow, portfolio, page and post)
added custom post type for slideshow
added custom post type for portfilio with category filter
and more…
1.3 version (09/01/2010) :
Updated theme options interface
Updated Meta box post options
Updated Meta box page options
Updated Documentation
Added multilevel dropdown menu
Added Video support for Portfolio page
Added Video support for Blog page
Added wordpress 3.0 Menu System
Added manageable two homepage box from theme options
Added 404 page template
Added Testimonial category template
Added portfolio category template
Added slideshow alternative (Nivo slider) can be switched from theme options)
Added slideshow position (left,right,top,bottom) for main slideshow (s3slider)
Added Language Translation source file (languages/centita.po)
Added many new field options in theme options
Added xml sample data
fixed all minor issues
1.2 version
Add dynamic page sidebar widget creation
Update theme options (now you dont need to enter the ID's of category or page)
Add ability to using pages as slideshow
Update custom centita widgets (now support for multiple instance widget)
Add speed setting for slideshow
Update Centita Ver 1.1
Add Number of words option to display in slideshow text
Add subtitle option field in theme options for Home menu
Add Number of words option to display in blog excerpt
Add Featured Project permalink to full post and image
Add Latest News permalink to full post
Add main navigation hover
Fix IE 6 bug
Fix Search Form in Chrome
Update documentation
HTML VERSION AVAILABLE HERE
Keep update with us..!!