Views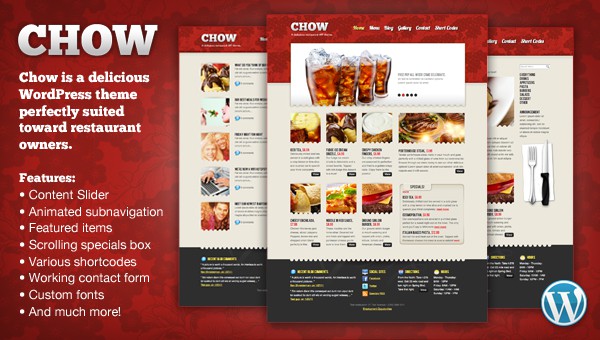 Total Download: 11/586
Theme Features
Chow WP Restaurant Theme Details:
his Theme Price Is Only $35 USD
Blog Description:
Chow is a delicious WordPress theme perfectly suited toward restaurant owners who want an easy, versatile and appealing way to engage customers and promote their business!
Features:
Home page content slider with optional descriptions and linking ability
Sleek subnavigation and animated subnavigation on pages with sidebars
Designate items to appear on the home page as featured and low calorie
Specials box that automatically scrolls and stops on hover
Various short codes to produce several column sizes.
Working contact form Download your copy today!
Please note: The pattern background image in the header is not included. You can easily replace this image with your own texture.
Change Log:
8/27/11- Improved instructions and general bug fixes
5/17/11 – Fixed error on contact form
6/1/11 – Added more detail to Help file
6/7/11 – Fixed error on Settings.txt file
6/28/11 – Substantial overhaul of Help documentation and bug fixes
Important Information:
Not compatible with WPML
Extensive Help file included with download