Views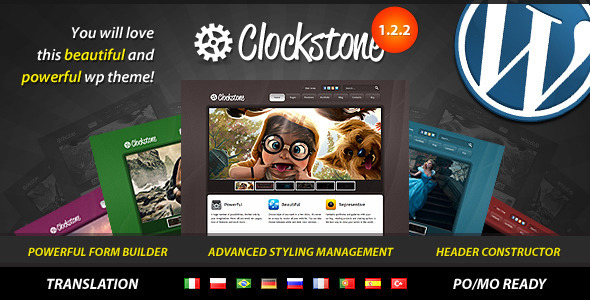 Total Download: 0/300
Theme Features
Clockstone Details:
This Theme Price Is Only $35 USD
Blog Description:
Compatible with WordPress 3.4
Current version – 1.2.2 (see Changelog)
For any help – visit cmsmasters support forums. Quick solutions and answers!
Hello!
Clockstone is something fresh and new, it is impossible not to draw attention! You never saw such a set of capabilities within a single theme. Just open the demo and see for yourself!
New Features (1.2)
Added: cmsmasters form builder 1.0
Watch videos: Form builder general overview, Message composer, Contact widget
Added: Internationalization (translation PO/MO ready)
Added: German translation
Added: Spanish translation
Added: French translation
Added: Italian translation
Added: Polish translation
Added: Portuguese translation
Added: Russian translation
Added: Turkish translation
Important Before update read Docs/!_clockstone_1.2_how_to_manual
New Features (1.1.1)
Added: Multisite Support
Added: Theme update notifier
Added: WordPress 3.2 full support
Added: Awesome Flashmo slider
Added: Backgrounds manager
Added: Fantastic feature – custom background and style (dark/light) on every page, post, project…
Cmsmasters panel 3.5
Modern style powerful panel with 300+ options!
Set-up website in minutes. Import demo-data and upload images to create a website just like on the demo!
Contact form builder
Create unlimited contact forms! Use fields, text areas, drop-downs, radiobuttons, checkboxes etc.. Set verification and fields that are required. You can set view of mails you'll receive with "Message composer". Enable / disable reCaptcha and even add your forms in sidebars!
Set-up website in minutes. Import demo-data and upload images to create a website just like on the demo!
Showcase
Examples of what you can get:
Submited by Inel
Clockstone Key Features:
Powerful cmsmasters admin panel 3.0
Any page can be home page. Set-up your own home page as you wish! (3 presets included)
Any page or post can be be with left sidebar, right sidebar or full width layout
Cool dashboard with quick links
Unlimited Header styles with Header constructor
5 Beautiful sliders
Google webfont directory support (120+ Fonts) you can preview fonts here – http://www.google.com/webfonts
Powerful styling options (see below)
Create unlimited portfolios and galleries
Unique sorting options for portfolio and galleries
Social, sharing and heading icon libraries
Unlimited Sidebars
Post types: Testimonials, Products, News
Post types: Gallery album, Portfolio project
8 Layouts of Blog page
7 Layouts of Portfolios and Galleries
65+ Shortcodes
16+ Custom widgets
Page heading templates: 4 styles
Powerful Translation options
Custom Breadcrumbs Options
Powerful SEO Options
and more..
General Theme Options
Site style changer
Breadcrumbs
Bottom sidebar
Custom codes
Google analytics
404 Error page settings
Sitemap page settings
Sidebars
Header social icons library
Sharing icons library
Theme icons manager
Add google font options (for just added webfonts)
Primary SEO Tools
Styling Options
Theme skin switcher
Advanced background options
Header Constructor
Logo & favicon options
Powerful font name options (font family)
Powerful font size options
Powerful font color options
Footer Options
Sliders Options
Architect Slider Options
Nivo Slider Options
Coin Slider Options
Accordion Slider Options
Piecemaker2 3D Slider Options
Post Types
Testimonials Default Options
News Default Options
Products Default Options
Blog Pages Options
Date
Categories
Author
Comments
Read more button
Blog Post Options
Blog post layout
Date
Categories
Author
Comments
Tags
"Share This" Block
"About Author" Block
"Popular" and "Recent" posts Block
Set number of "Popular" and "Recent" posts
Portfolio and Gallery
Projects Description
Set projects Description Length In Symbols
Projects Features
Projects Read More Button
Albums Description
Set albums Description Length In Symbols
Albums Read More Button
"Share This" Block
"Popular" and "Recent" posts Block
Set number of "Popular" and "Recent" posts
Translation
Run Clockstone on your language easily!
Page Heading Templates
Standard Heading
With text
With Icon
With Text and Icon
Shortcodes
Basic shortcodes set
Styled Lists (40 bullets)
Buttons (40 Styled buttons, 2 types, 3 sizes and colored buttons)
6 Infoboxes
Columns
Pricing Tables
Tooltips
Advanced Shortcodes
Tabs, Toggle and Accordion
Site Tour (Cool Feature)
Media (HTML5 Video, Youtube, Vimeo, Dailymotion, Screenr, HTML5 Audio, Image Gallery)
Lightboxes
Custom Widgets
Advertisement
Divider
HTML5 Audio
Portfolio Items
Comments
Embeded Video
HTML5 Video
Recent Posts/News
Contact Form
Flickr
Latest Products
Recent Testimonials
Contact Info
Gallery Items
Popular Posts/News
Twitter
Widgets has custom width options for horizontal sidebars (1/4, 1/3, 1/2, 3/4, 2/3…)
Typography
H1-H6 Tags
Dividers
Supported Letters
Ordered List
Picture Frames
Big Centered Text
Table
Layouts
Sitemap
404 error page (You'll like it!)
Left Sidebar
Right Sidebar
Full Width
Changelog
May 3, 2012- Clockstone 1.2.2 Update
Fixed: Twitter widget issue
October 29, 2011- Clockstone 1.2.1 Update
Fixed: Contact form issue
October 27, 2011- Clockstone 1.2 Update
Added: CMSMasters form builder 1.0
Added: Internationalization (translation ready)
Added: German translation
Added: Spanish translation
Added: French translation
Added: Italian translation
Added: Polish translation
Added: Portuguese translation
Added: Russian translation
Added: Turkish translation
Added: Google Plus to sharing options
Changed: JQuery 1.6.2 to 1.6.4
Fixed: Theme update notifier issue
Fixed: Pretty permalinks issue
July 13, 2011- Clockstone 1.1.1 Update
Added: Multisite Suuport
Added: Portfolio project content type disable parameter
Fixed: Slides categories issue
Fixed: Background manager image load issue
July 12, 2011 – Clockstone 1.1 Update
Added: Theme update notifier
Added: WordPress 3.2 full support
Added: Awesome Flashmo slider
Added: Backgrounds manager
Added: Fantastic feature – set custom background and style (dark/light) on every page, post, project, etc
Added: Link target option for sliders
Changed: CMSMasters admin panel 3.5 – more productivity and with new options
Changed: Fonts manager (now you can edit and delete)
Changed: Max height of header 750px
Changed: Testimonials widget
Changed: JQuery 1.6.1 to 1.6.2
Fixed: Breadcrumbs home page link issue
Fixed: Portfolio and tags widgets
Fixed: Added mailto: for mail icon in header
Fixed: Archives
Fixed: Types and Categories issues
Fixed: Paginator on front page
Fixed: IE8 background issue
Fixed: Portfolio columns sorting issue
Fixed: Style changer background issue
Fixed: CMSMasters admin panel help lightbox issue
Fixed: Some small issues…
June 27, 2011 – Clockstone 1.0.1 Update
Fixed: cmsmasters admin "hide" issue;
Added: Extended documentation added;
Credits
Round Theme Icons by kon http://kon.deviantart.com/art/Round-Theme-Icons-102082380
Fantastic images of Giuseppe Severino http://cartoonbox.carbonmade.com/
Cool Icons from Taytel http://taytel.deviantart.com/art/ORB-Icons-87934875
Iconsweets http://www.iconsweets.com/
Iconsweets2 http://www.iconsweets2.com/
Nivo Slider http://nivo.dev7studios.com/
Coin Slider http://workshop.rs/projects/coin-slider/
Piecemaker 2 http://www.modularweb.net/#/en/piecemaker/piecemaker-demo
jQuery Tools Tooltip http://flowplayer.org/tools/tooltip/index.html
Beautiful Images by ReevolveR http://reevolver.deviantart.com/gallery/#/d33e5zf
Cool Image by henryz http://henryz.deviantart.com/art/great-destination-121421346
Support requirements
If you want to contact us via email, fisrt of all, please use themeforest form at http://themeforest.net/user/cmsmasters
Please add to your support ticket such an info:
detailed issue description
link to your site
browser/browsers list you using when get this issue
screenshots are very desirable
ftp, wp-admin details if needed