Views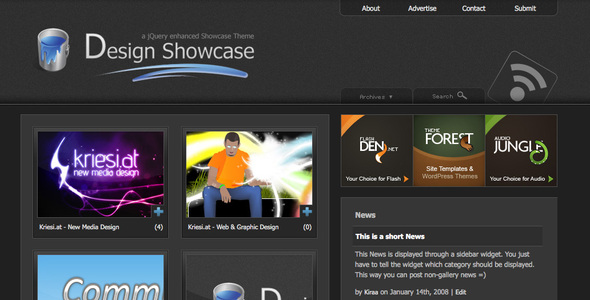 Total Download: 3/442
Theme Features
Design Showcase WordPress Theme Details:
This Theme Price Is Only $30 USD
Blog Description:
Design Showcae is a highly customizable WordPress Showcase Theme with a lot of Javascript goodies and administrative options.
Widgetd can be used in 4 different widget areas:
* sidebar-top
* sidebar-tabs
* sidebar-bottom
* footer (will be transformed into slide panel)
sidebar-tabs automatically creates jQuery tabs out of the widgets that are applied to it, the other 3 areas display it in normal mode The theme comes with an additional administration page. here you can define which javascript improvements you want to enable. (jQuery support, tooltips for images, tooltips for title tags, tabs, smooth scrooling for anchor links) You also have the possibility to add your Google analytics code here.
You can edit which pages you want to display in the main menu here as well.
At the write post panel you can find an extra advanced option field now. If you write a new post or edit an existing one you will find a new tab called "Design Showcase Images".
Here you have to enter one url for the preview image, one for the tooltip hover and the direct link to the item you are writing about.
Other features:
* Breadcrumb navigation with nested page/category support
* CSS Drowpdown Menu enhanced with jQuery
* Gravatar Support
* Comments of Post Author and admin are highlighted
* Seperation of comments and trackbacks
* PSD for logo and Buttons included: the text is made out of layer styles and fully editable so you can easly change the name of the site.
* Valid HTML /CSS works in every major browser (Firefox 2+3 and higher, IE6 , 7 and higher, Safari, Opera, chrome)
* All Javascript options a really unobtrusive: if javascript is turned off no dead anchor links or similar remainders will be displayed
Update 08.02.2008
Fixed some small bug in javascript, updated some functions to meet 2.7 criteria and added build in support for wp-poststars rating