Views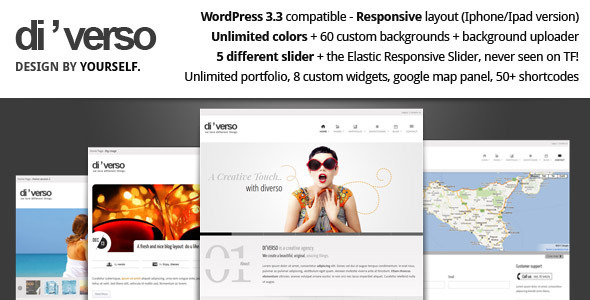 Total Download: 11/1548
Theme Features
Di'verso WP Theme Details:
This Theme Price Is Only $35 USD
Blog Description:
Di'verso is a fresh and clean multipurpose WordPress Theme, built for your corporate/portfolio site or your personal blog. Di'verso is easy to set and customize so you can create a lot of different layouts according your needs. A nice responsive theme, that works fine in your mobile devices..try it!
Testimonials!
Bookmark this theme as one of your "Must Haves for 2012" This theme is without a doubt one of our Top 5 Purchases. Once you get used to how the content is organised in Admin, the applications are endless. The support for this theme is outstanding. Great job Team Yi!! [Manamedia]
I am so happy I found your theme! I've been using an "elegant" theme but it is not nearly as easy to use as di'verso. Your documentation is so clear, and all the elements work as they should. From Reno, Nevada…I say …… THANK YOU !!! imajinimages
I am absolutely thrilled with this theme! :shocked: I have never built a website before but your instructions and design make it both fun and easy to do. …Thanks a lot for your help! your support is AMAZING 🙂 (Mr Orange)
Thanks very much for this piece of art. Great and quick support!! 5 themeforest stars from Germany to Italy! [elschpa]
Thank YOU for your great support! The client LOVES the site! (ninja21)
Wow, just to say congrats. 200 sales in 10 days? That's faster than a greased pig on a slip and slide. [StevenGliebe]
You've made a very beautiful work on di`verso, I will surely buy it for one of my clients. Keep up the good work and vero bello diverso! [SoireeDigitale]
WOW , one of the best on themeforest. Finally a diffetent responsive theme. I like it. [Fdecoene]
Hello Sara I just bought your theme, congratulations it is really beautiful! [Flaincau]
LOVE this theme – lots of options – THANK YOU ! [SaraNelsonDesign]
Update History
Version 1.3 – February 08
Fixed: bug with portfolio single post layout, the post content was been duplicated after the footer
Fixed: make the video more responsive
Fixed: bug with retrieving widget
Fixed: first image cut in the cycle slider
Fixed: warning shown by the update notifier system
Fixed: some bugs with responsive elements layout
Fixed: bug with qtranslate compatibility
Fixed: bug with map tab
Fixed: bug with rewrite urls of pages and posts
Fixed: bug with shortcode/widgets recent post and last news, when you select "no" in the thumbnail option
Fixed: position of third level menu, when it go off the layout container
Fixed: hover of the thumbnail in the gallery page
Fixed: option to change the prettyphoto style (NB: It should be necessary save the options to have the style in prettyphoto)
Added: ability to add the tags data_name in the fields "to", "from email" and "from name", in the contact form configuration
Added: new option in the theme options panel, where you can active or deactive the responsive layout for the minor resolution
Added: ability to make the map tab already opened, when the page is loaded
Version 1.2.1 – February 01
Fixed: layout of portfolio big image in mobile versions
Fixed: adjusting height of slider cycle
Fixed: various bugs with slider cycle
Fixed: setting for lightbox layout of portfolio
Fixed: single portfolio layout page of new portfolio created
Fixed: widget "More Projects" for new portfolio pages
Fixed: various bugs in the code
Fixed: bugs with map on contact page
Added: capability to add links to [lider] shortcode
Added: latin, cyrillic and greek subset into google fonts
Added: compatibility with qTranslate plugin, for multilingual translating of theme options
Added: subtitle field for accordion slider
Added: google analytics field in theme options panel
Removed: lightbox for mobile versions
Version 1.2 – January 22
Fixed: some bugs with video shortcodes and in portfolio pages
Fixed: some bugs with sliders
Fixed: some bugs in mobile version style
Fixed: style and some javascript controls in slider cycle
Fixed: shadow background image of the container
Fixed: result posts after searching on search form
Fixed: bug when you add a link into a slide of elastic slider
Fixed: style of price box shortcode
Fixed: other various bugs
Added: new option in each portfolio of "new portfolio" section, to choose the text of read more button
Added: new "Default Sidebar" on widgets page, where you can change the widgets of static default sidebar
Updated: all .po files for theme localization
Version 1.1 – January 12
Fixed some estetic bugs
Added the slider elastic also in the mobile version
Added the accordion slider for the pages
DIVERSO FEATURES
Responsive layout
You can chose if use the Elastic Slider also in the mobile devices, or if replace each slider with static images, or also if remove the sliders.
Home page sliders
The new elastic responsive slider, never seen on ThemeForest!;
Elegant slider: An elegant slideshow to display images and text;
Thumbnails slider: the great solution to display a lot of images;
Cycle Slider: to show text and images or text and videos in a nice way;
Nivo Slider: a classic jQuery slideshow with a lot of different transitions;
Static image + text: no slider in your front page? no problem, set a static image and enter your text!
Video + text: a video in your front page? no problem, there is a great solution for you!
Home page composer
Display or not the slider and chose your slider (or a static image)
Display or not the sections with the numbers on the left, create new sections and so on
Display or not the home page content
Use the sidebar "home row" to add widgets and plugins in your home page
Dispay or not testimonials in your home page
Display or not Twitter in the bottom
Set the content of your footer
..and so on! You can move everything and change the position of each element using the composer features.
Choose Your fonts & Colors
Over 200 Google fonts;
20 Cufon fonts;
Set font and size for titles, slogan, body text and more;
Unlimited combinations of colors
50+ background images and patterns
Bg images uploader
Portfolio & Gallery filterables
Unlimited portfolio
5 different portfolio templates;
Filterable portfolio;
Filterable gallery;
General features
Extensive Admin Panel
960 grid system layout
Unobtrusive Menu: it Works also if JavaScript is disabled
2 menu styles, dark & light;
2 different blog styles
12 custom widgets
Custom post type for testimonials, gallery and portfolio
Unlimited sidebars
Unlimited widget-areas in the footer
2 different blog styles: big or small image
Unlimited contact forms with javascript error control
Translation-ready theme
Different page layout:
Home page
Testimonial page
News page
Contact page
5 Portfolio pages
Gallery page
Full width
With sidebar
2 Blog page
404 error page
Archive page
Shortcodes
Typography: quote, columns, list styles, dropcap & more
Elements: alert boxes, buttons, tables, toggles, tabs, prices tables & more
Media: sliders, galleries, videos
& more
PrettyPhoto (really nice Lightbox clone)
Blog page + thread comments
Well Documented
HTML File support