Views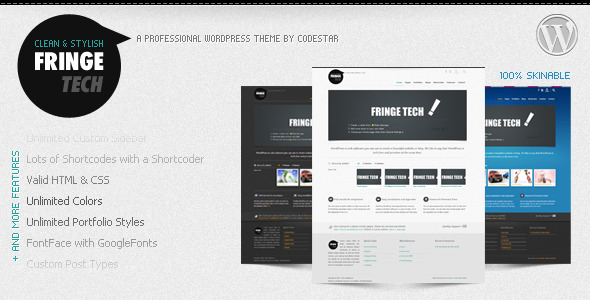 Total Download: 1/622
Theme Features
Fringe Details:
* Install Fringe Tech Theme
* Header Settings
o Header Dashed & Top Shadow
o Header Quicktag Icons Settings
o Header Search Settings
o Logo and Favicon Settings
o Header Main Menu Settings
* General Settings
o Home Page Slider Settings
o Comment Turn On/off Settings
o jQuery prettyPhoto Settings
* Home Page Intro Text Settings
* Twitter & Quickly Support Settings
o Twitter Settings
o Quickly Support Settings
* Footer Settings
o Footer Widgets Settings
o Footer Copyright Settings
* Skin Settings
o General Skin Settings
o Twitter and Quickly Support Background Color
o Footer Background Color
o Custom CSS
* Contact Settings
* Headline Typography Settings
* Dashboard Settings
* Translate Settings
* Portfolio Page Settings
* Blog Page Settings
* Home Design Settings
o Home Box Widgets
o Home Recently added Settings
Features:
* WordPress 3.0 Menu Manager
* Custom Post and Page Options
* Custom Widgets & Sidebars
* Blog and Post and Item Detail Template
* Full Width Page Template
* Nested comments
* Great Backend and 11 Admin Option Pages
* Multi-level drop-down menu support
* Important ! Image Uploader for Thumbnails and Full Size Pictures.
* Ajax Working Contact Form + Validation
* jQuery Portfolio with Video content
* Valid XHTM Strict1.0 and CSS 2 .1, tableless design
* Cross Browser Compatible
* SEO Optimized
* jQuery Image Slider (Can be controled via admin panel)
* Gravatar Support
* Using Custom Files for Thumbnails with WordPress Uploader!
* Twitter Ready
* So Many Widgets Area for all of pages
* Cufon Text Replacement (also can be upload new style via admin panel)
* jQuery News & Blog Ticker
* Very many theme settings
* Well commented code for all pages
* Help documentation file included for easy modification
Credits:
* jQuery and jQuery UI by (John Resig)
* prettyPhoto by (Stephane Caron)
* jQuery Easing by (George McGinley Smith)
* Twitter Feed by (Seaofclouds)
* jQuery Multi Level Menu by (Dynamic Drive)
Originally posted 2011-06-11 10:36:32.