Views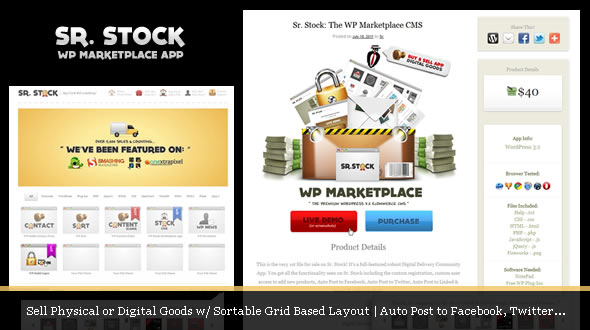 Total Download: 0/149
Theme Features
Digital Delivery Details:
v.4.0 Updated on June 18th, 2012 @ 4:25pm CST Changelog:
Now WordPress 3.4 compatible!
Updated many plugins.
v3.0 Updated on October 23rd, 2011 @ 12:08 CST Changelog:
Do NOT Update the Custom Content Types Plugin or the Digital Delivery plugin.
Updated the stylesheet for the Timed Deals Widget styling.
Updated XML Import Data File
Removed unwanted demo content.
Fixed the Purchase Buttons alignment issue.
v2.0 Updated on August 3rd, 2011 @ 12pm CST Changelog:
NEW: Added Timed Deals Widget!
Added Top Bar for sitewide messages that you can set to expire or only show on specific pages.
Added Front End Author Profile Pages, WYSIWYG & Front End Post Editor
Improved Typography & Visual Heirarchy.
v2.0 Updated on August 3rd, 2011 @ 12pm CST Changelog:
Update: Some minor but important CSS fixes in sidebar
NEW: Substitution of the Content Slider to the Nivo Slider for MouseOver on hover ability.
NEW: WP PhotoStock Bonus Theme Skin included in Download! (PhotoStock Demo)
Easily Sell Stock Photos and/or Prints with the new WP PhotoStock Theme.
Sr. Stock is a robust Marketplace App / WordPress Theme that allows you to sell digital or physical products with options. Custom Content Types are easily added to supply any file information for customers.


NEW Features in Digital Delivert Makerplace App (Sr. Stock) that WP Marketplace doesn't have:
NEW: Sortable Product Grid View
NEW: Who's Online Widget – Buyers & Sellers (Displayed in Sidebar)
NEW: Custom Registration Tool
NEW: Custom Icon Based Navigation
NEW: Slider AutoPlay & Arrow and/or Bullet controls On/Off
Speed & effects options in admin panel
PayPal & Digital Delivery Tested up to 30Mb file size.
Other Awesome Features:
Auto Post to Facebook, Twitter, LinkedIn, & more…
Featured Content Slider (Uses WYSIWYG Editor)
Newsletter Widget w/ Validation
Modal Contact Form w/ Validation
Social Boost for Products & Posts (Tweet, Like, Digg, Google Buzz)
Easily manage Page/Post Specific Sidebar Widgets
Validated Forms & Comments
Custom Icon Base + WP3 w/ Drop Down Menu(s)
Custom Empty Search Results
Pagination
Blog Template
Uses PayPal Standard (Free)
PayPal Button Shortcodes
Secure Temporart Download Links via Email Instantly
PayPal Button Generator in admin
Track Sales in WordPress Admin
Add unlimited Files/Products
Supports Multiple Currencies (USD, AUD, EUR, GBP, NZD, RUR)
Top Notch Support & Custom Work
Please feel free to email me for support/custom work or installation help. Thanks for looking!