Views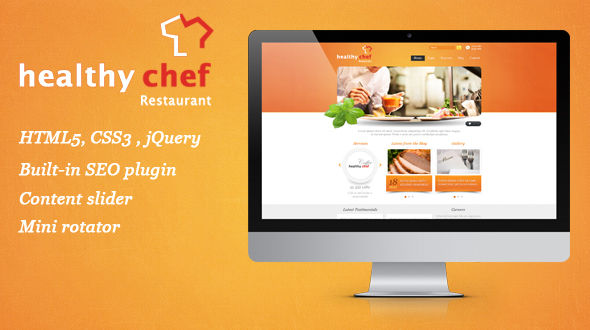 Total Download: 0/9
Theme Features
Healthy Chef Details:
Our Review: Healthy Chef is a beautiful responsive Restaurant type WordPress Theme. This theme is prefect for use as a business, portfolio, restaurant website. This theme was build by "usabilitywordpress" . The themes has Different versions of the font sizes for text, headlines and menus, Home of the prepared modules by Simple text only – block of the same texts from the abstracted categories or the parent, Images & text on slider – a block of images and title, the Latest news – block the latest posts retrieved from the class or the parent, about Testimonial – slider with opinions, the rotator Mini – Mini Slider with images and more.This theme's price is just $49.
Healthy Chef is ideal for a website dedicated to the restaurant. This theme allows to easily create a perspicuous menu and to present chef proposals. A phone number is located on the homepage. On the contact form, there is a place for the necessary data and a contact form. Integration with Google Maps is also included as a nice way to present location of the restaurant. Of course, this is only a suggestion because there is a lot of configuration options. The theme can be used also to different trades, not just gastronomic. In the settings you can set the number of options, such as distribution of the pages or the posts on the homepage and on the slider. There is also the ability to easily put your logo and your password, menu, etc.
Technology:
HTML5, CSS3, jQuery
960 Grid System
Files:
CSS, PSD, HTML,
Each skin attach a pure HTML version
PSD
Features:
• Different versions of the font sizes for text, headlines and menus
• Home of the prepared modules:
by Simple text only – block of the same texts from the abstracted categories or the parent
Images & text on slider – a block of images and title
the Latest news – block the latest posts retrieved from the class or the parent
about Testimonial – slider with opinions
the rotator Mini – Mini Slider with images
• Built-in SEO plug
• Ability to set their translation
• You can add your own CSS declaration
Templates:
• Full Width Page
• Page with left sidebar
• Page with right sidebar
• Menu Page
• Service Page
• Testimonials Page
• Gallery Page
• Contact