Views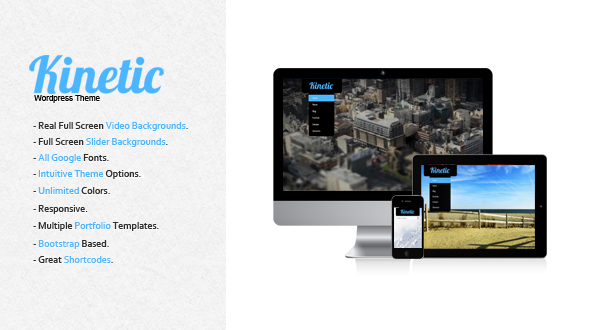 Total Download: 0/68
Theme Features
Kinetic Details:
Kinetic WordPress Theme
Our Review: Kinetic – Full Screen Background WordPress Theme.
Kinetic is a clear responsive wordpress theme. The Kinetic produce by DanielJonesDesigner. This theme uses Bootstrap framework of HTML5, CSS3 and JavaScript to create a fantastic user interface. This themes looking so beautiful, full screen video backgrounds, full screen slider. Also there are Unique Design and Layout, Unlimited Background Slides, 2, 3 and 4 Column Portfolio Templates, Includes a Working Contact Page, So user can change from their options easily. The KIinetic's created May 14, 2013. The theme price is $49.
Kinetic is a clean, responsive and simply stunning WordPress theme with a fantastic array of features including full screen video and slider backgrounds. It uses HTML5, CSS3, jQuery and Bootstrap to create a fantastic interface for users. Kinetic also has a great range of customization options all pulled together in a powerful and intuitive options framework.
Theme Features:
---
– Full Screen Vimeo Backgrounds
– Full Screen Youtube Backgrounds
– Full Screen Slider Backgrounds
– Full Screen Image Backgrounds
– Unique Design and Layout
– Unlimited Colors
– All Google Fonts
– Responsive
– Fully Valid HTML5
– Uses CSS3
– Unlimited Background Slides
– Customizable Text Divs on Background Slides
– Uses FlexSlider 2 by WooThemes
– Powerful Theme Options Using Slightly Modified Options Framework by Syamil MJ
– Unlimited Background Slides
– 2, 3 and 4 Column Portfolio Templates
– Font Based Social Icons
– Uses Bootstrap
– Great Array of Shortcodes
– Includes a Working Contact Page
– Numerous Home Templates
– Numerous About Templates
– Right Sidebar Blog Template
– Left Sidebar Blog Template
– Full Width Blog Template
– Fast Support
– Extensive Documentation
– and so much more!
Support
---
If it's support you're looking for, message me here on Mojo. You should expect a response within 24 hours. If you don't get one in that time scale, it's probably because I've forgot to check. You can prompt me on Twitter if you're in a hurry.