Views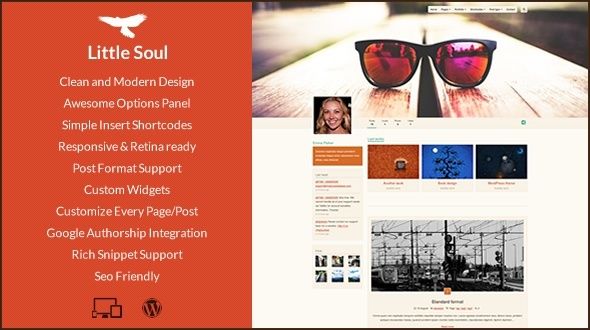 Total Download: 0/19
Theme Features
Little Soul Details:
This is a theme which perfectly suits for users who want to have their own personal blog. It is designed and developed following a logic based on social networks: an easy access both to the profile and to personal experiences and thoughts.
---
Support
For any questions contact us from our support page
We are usually online around 09:30 – 12:30 | 15:00 – 19:30 (GMT + 2:00). Please note that while we always strive to answer your questions as soon as humanly possible, sometimes we are not able to do so for whatever reasons and we ask you to be patient during these times.
---
Changelog
Version 1.3 – 30-08-2014
Add notifier for theme update
Add footer area widgets
Small bug fix
Version 1.2 – 29-08-2014
Add portfolio
Small bug fix
Version 1.1 – 27-08-2014
Add wpml support
Update plugin http://mediaelementjs.com
Add widget oembed
Add widget instagram
Add oembed head page
Support oembed for post
New shortcode: oembed
Small bug fix
Version 1.0 – 25-08-2014
---
Credits