Views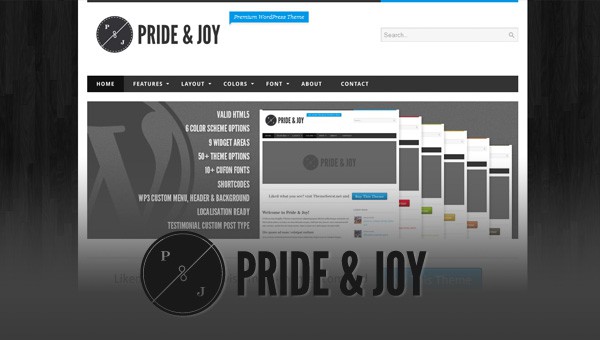 Total Download: 0/105
Theme Features
Pride & Joy Details:
Pride & Joy is a beautiful, minimalist, clean looking WordPress theme, with easy to customize color scheme, typography, graphic header and background. This theme comes with 6 color schemes, more than 10 Cufon fonts, 9 widget area, 50+ theme options, WP3 new features ( Custom Menu, Header, Background), localisation support, Shortcodes, and many more.
Complete Features:
Valid HTML5
6 color schemes
9 widget areas
WP3 Custom Menus, Header & Background Supports
Localisation Support
Shortcodes
50+ theme options
12 Cufon fonts
Lightbox Gallery using prettyPhoto (3 layout option)
Frontpage slider using Coin Slider
Testimony Custom Post Type
Sources/Credits:
There are cufon generated fonts included in the package, all of them are free to use for commercial purpose.
Here are the list of the fonts:
Cantarell, Copyright © 2009 Dave Crossland
Colaborate, Copyright © 2003 Ralph Oliver du Carrois.
Crimson Text, Copyright © 2010, Sebastian Kosch (sebastian@aldusleaf.org)
Droid Sans, Digitized data copyright © 2006, Google Corporation.
Hattori Hanzo, Copyright © 2009 by Roman Shamin & Jovanny Lemonad.
Justus, Copyright © 1800 Justus Erich W.
Liberation Sans, Digitized data `2007 Ascender Corporation. All rights reserved.
Prociono, Barry Schwartz, http://crudfactory.com
PT Sans, Copyright © 2009 ParaType Ltd.
Sansation, Copyright © 2008 Bernd Montag
Titillium, Copyright: Generated in 2010 by FontLab Studio.
Vegur, Copyright © 2010 dot colon, Designer:arro
Changelog:
version 1.2.1 (Updated April 10, 2011)
update pride_joy.po
update meta-boxes.php

version 1.2 (Updated April 9, 2011)
upgrade cufon to version 1.09i
upgrade prettyPhoto to version 3.1
include new default theme for prettyPhoto
add support for Google Webfont
version 1.1 (Updated Jan 16, 2011)
fix left aligned image clipping
fix custom logo image bug
fix error which occurs when debug mode set to true