Views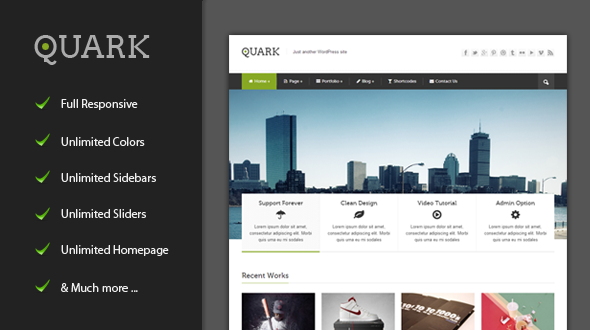 Total Download: 1/63
Theme Features
Quark – Responsive Details:
Quark is a clean & fresh responsive WordPress theme for business and coporate website. Responsive design, unlimited sidebars, many portfolio template (filter & static). For really best experience use last version of your browser. Supported browsers are Chrome, Safari, Firefox, Opera, IE9 + and more.
Theme Features
Advanced Theme Option
Unlimited color
20 Predefined skins
Flex and Nivo slider
Shortcode generator (for html editor also)
Full reponsive layout
Flexible page templates
6 Portfolio templates
3 Blog templates
3 Gallery templates
Translation ready with po, mo files support
Built-in social media profiles module
9 Custom Widgets Recent posts
Twitter feed
Facebook like box
Flickr photostream
Contact widget
Google map
Recent works
Social widget
Tab widget
Unlimited sidebar
Custom Post Type support for Portfolio, Slider, People, Gallery.
WordPress custom menu support
Automatically thumbnail support
Licenses
Photo:
– http://subtlepatterns.com
– http://www.flickr.com/photos/dcdead
– http://www.flickr.com/photos/tjt195
– http://www.flickr.com/photos/cubagallery/4963067976
– http://www.flickr.com/photos/rufino_uribe/106556819
– http://www.flickr.com/photos/eveos/5372611350
– http://www.flickr.com/photos/vectorportal/3559700484
– http://www.flickr.com/photos/duncanh1/6875276295
– http://www.flickr.com/photos/benny_lin/206770414
– http://www.flickr.com/photos/bensonkua/6803697433
Fonts:
– http://fortawesome.github.com/Font-Awesome/
– http://www.myfonts.com/fonts/exljbris/museo/ (Museo 300 & Museo 500 – Free)
Javascript:
– http://desandro.com/resources/jquery-masonry
– http://www.smashinglabs.pl/gmap
– http://gsgd.co.uk/sandbox/jquery/easing/
– http://www.woothemes.com/flexslider/
– http://github.com/mambows/mobilemenu/
– http://www.netcu.de – jquery.touchwipe.min
– http://www.no-margin-for-errors.com/ (Prettyphoto)
– http://www.dynamicdrive.com/style/csslibrary/item/jquery_multi_level_css_menu_2/P30/