Views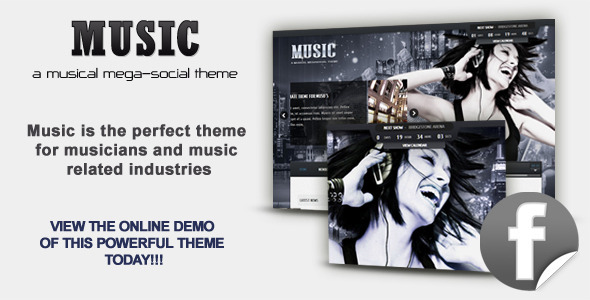 Total Download: 0/219
Theme Features
Music: Musicians Details:
This Theme Price Is Only $35 USD
Blog Description:
Music is a intelligent theme with unique features for the music industry. It's easy to use, easy to customize and most importantly – it ads functionality not to be found in any other WordPress theme.
Important
You have worked hard to produce your music keep it yours
The theme will not provide a secure environment that will keep your music from being downloaded. If you do not want your music to be downloaded, follow Amazon and Itunes and put the first 30 or 60 seconds of your song to be sampled.
Changes
3 May 2012 – Version 1.3
Widened Facebook to 806px.
Added playlist to Facebook page.
Added countdown timer
Added a no music found notice if there's no music in the player.
fixed single player
workaround for disabled calendar functions in some players.
workaround for getting google maps geo-coding in some server settings.
workaround for disabled php 5 calendar features in some servers.
fixed volume bar.
Added music theme for updating with the envato plugin.
Added an upcoming events page template for musicians with fewer shows.
Added an greater tolerance for shows in the future.
Updated the translation plugin for countdown timer terms.
hide overflow on artist and trackname in the browser
20 Feb 2012 – Version 1.2
Corrected Facebook player not playing. Removed slashes in tagline. Better support for Facebook url's. Added omitted localization terms. Made category images click to the blog post.Custom links not functioning in content slider. Fix admin page wording. Fix category title when player is disabled. Fixed close button on gallery.
8 Feb 2012 – Version 1.1
improved default typography
Fixed some initial bugs see the change log for details
Dual slider included
Choose between a content slider or image slider for your theme
Facebook Fanpage included
Set up once and it will update forever. In fact, the facebook fanpage is your own site shown in Facebook
Proper setup insruction manual for easy setup.
Lots of links back to your website.
90 Minutes of tutorial videos
We've broken 90 minutes of tutorial video's into 70 minitutorials to show you exactly how to set up the theme
Proper indexing of tutorials allow you to zoom in on any section for lightning fast overview.
Advanced custom calendar
Custom calendar with single day, multi day and recurring events.
Countdown timer widget that catches the eye. Get people to your events.
Reminders will remind your fans of upcomming events.
Easy integration into your theme. No plugins to download.
Proper Google Maps integration
Google directions on your site.
Awesome unique widgets
Menu carousel.
Newsletter signup.
Twitter single and multitweet widgets.
Customer feedback widget.
Image link widgets that links to any content.
Awesome facebook widget.
Even more
team pages.
Unique blog layout.
Google fonts integration
Please note
a SSL certificate are required from Facebook for fanpages.
The background artwork of the content slider demo is not included in the theme.
Resources
Eddi van W
Pink sherbet
Kenny Matic
SEO 2
Erik Charlton
Gilmorec
Sabouka
Nastassia Davis
Nirazilla
Stig Nygaard
gregorfischer.photography