Views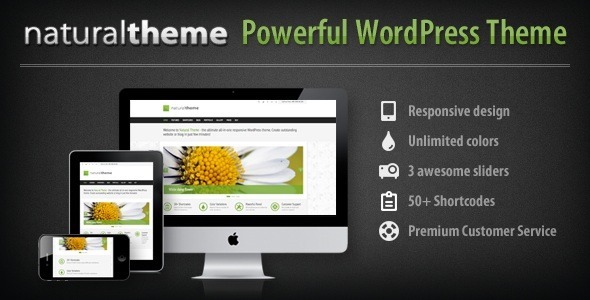 Total Download: 1/247
Theme Features
Natural Details:
his Theme Price Is Only $35 USD
Blog Description:
Natural Theme is a responsive Premium WordPress Theme with a powerful, but easy to use, Admin Panel and near endless customization possibilities. You can create a corporate website, a personal portfolio or a professional looking weblog in just a few minutes. It requires no coding skills, but it also gives a lot of possibilities for experienced developers.
Key features
Powerful Unbranded Admin Panel (see screenshots)
Unlimited home page layouts – home page is built with shortcodes, so you can customize it to your needs
Shortcode Generator to insert shortcodes from the WordPress visual or HTML editor (see screenshots)
Custom headers – you can display images (example), a full-width slider (example) or a map (example) in the page, post or portfolio item header
16 predefined gorgeous color variations (see them all)
155 icons, each of them in 13 colors
Near unlimited colors customization posibilities (see screenshot)
130 pre-made background textures + built-in uploader for custom background textures
Built-in Like button for blog posts and portfolio items + widgets for displaying most liked posts and portfolio items
Unlimited sidebars – pick a different sidebar for every blog category, every blog post and every page
5 default sidebars – footer sidebar, blog sidebar, portfolio sidebar, gallery sidebar and page sidebar (for standard pages)
3 awesome responsive sliders – FlexSlider (example), Elastic Image Slideshow (example) and ResponsiveSlides (example); sliders can display slides (custom post type), images assigned to posts/pages or custom images
Scrollable gallery – an attractive way to show your images (see examples); it can also show the latest blog posts or portfolio items (see examples)
50+ shortcodes (see examples) with handy Shortcode Generator
Shortcodes with many different variations (for example 72 button variations, all of them in 3 sizes) and custom colors
Custom post types for Portfolio and Slides
Custom portfolio taxonomies (portfolio categories and portfolio tags)
7 portfolio layouts, including 2 layouts with sortable items (see example)
17 custom templates (home page, blog, portfolio, single page, gallery, 404, search)
Support for WordPress built-in galleries (see example)
Amazing Galleria script for galleries (see example)
PrettyPhoto (Lightbox clone) with video support (YouTube & Vimeo)
Full video support (YouTube, Vimeo, Dailymotion, self-hosted videos – see examples)
11 custom widgets (see the list)
Automatic thumbnails generation with TimThumb
Social icons (right side of the page header) for 23 websites/services + sharing button
Font replacement with Google Web Fonts – choose between 520+ free fonts
WordPress Menu support
High-quality, SEO -optimized XHTML /CSS code
Translation ready (.po file included), works well with qTranslate plugin
Layered PSD files included
Support for Contact Form 7 and Contact Form 7 Widget (custom styles)
Extensive documentation
Sample content
Premium Customer Service
Templates List
Home Page
Blog page with right sidebar, left sidebar or without sidebar (full width)
Portfolio – 1 column with sidebar (left or right)
Portfolio – 2 columns without sidebar
Portfolio – 2 column with sidebar (left or right)
Portfolio – 3 column without sidebar
Portfolio – 4 columns without sidebar
Portfolio – 3 columns, sortable
Portfolio – 4 columns, sortable
Gallery without sidebar
Gallery with right sidebar
Gallery with left sidebar
Single page without sidebar
Single page with left sidebar
Single page with right sidebar
Search page
404 error page
Customer Support
We want our customers to be fully satisfied with our themes, so we provide an extensive customer support. We won't leave you with your troubles and we will answer all your questions.
Additionally, if you need or want to use some plugins or widgets which don't look or work very well with our theme, please let us know – we will try to adjust them for you. If our theme doesn't have some feature you need to have, please let us know – maybe we can add this in the near future or even in a few hours.
Changelog
1.1 – 17 May 2012
[Added] Optional boxed theme layout
[Fixed] Small tweaks for the comment form on iPhone/iPad
[Fixed] Tweet shortcodes options in Shortcode Generator
Images used on the demo website (they are NOT the part of the theme package):
WikiMedia – PeripitusWikiMedia – AlvesgasparWikiMedia – Amada44WikiMedia – JJ HarrisonWikiMedia – Hans HillewaertWikiMedia – Böhringer FriedrichWikiMedia – Jens PetersenWikiMedia – Louise DockerWikiMedia – Simon KoopmannWikiMedia – Lestat (Jan Mehlich)WikiMedia – Richard BartzWikiMedia – CalibasWikiMedia – Richard BartzWikiMedia – MdfWikiMedia – MdfWikiMedia – Luc ViatourWikiMedia – Luc Viatourstock.xchng – Kristof Degreefstock.xchng – Leila Haj-Hassanstock.xchng – Marek Lutystock.xchng – Fleur Suijtenstock.xchng – Thomas Weißstock.xchng – Jorn Jansenstock.xchng – Gareth du Plessisstock.xchng – Nossiromstock.xchng – Mateusz Atroszkostock.xchng – Mateusz Atroszkostock.xchng – Mateusz Atroszkostock.xchng – Fleur Suijtenstock.xchng – Ry Youngstock.xchng – Alek von FelkerzamBartosz Topolski
Background textures:
ftIsis-StockftIsis-StockTzolkinmasterjinnShishi2011MouritsaDA-StockMouritsaDA-StockMouritsaDA-StockboryssesSubtle Patterns