Views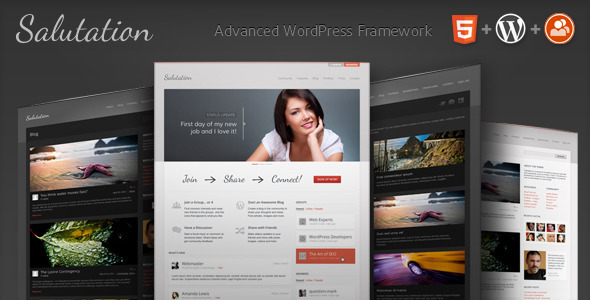 Total Download: 25/1337
Theme Features
Salutation WordPress Theme Details:
This Theme Price Is Only $50 USD
Blog Description:
Updated! Compatible with BuddyPress v1.5 and bbPress 2.0!
Salutation is a WordPress and BuddyPress theme. If you're not familiar with BuddyPress, it's a social network plugin for WordPress allowing your website to become a fully functional community portal. BuddyPress lets your users interract through groups, forums, friends, status updates, private messaging and a lot more.
Salutation has a clean design focused on high-level content organization. It's easy to navigate and promotes a feeling of user satisfaction. The well organized menus and page structures encourage a positive user experience allowing your visitors to find what they're looking for quickly. The theme includes administration features giving you complete control of your website's layout and design. The unique and easy to manage design ensures your site will stand out and be remembered.
Looking for theme support?
Post support questions to our Help Center for faster responses and better support.
Parallelus Help Center
Drag and Drop Layout Manager
Using the drag-and-drop "Layout Manager" you can create custom layouts for any page or post. Attach custom headers and footers to your layouts and interchange them as needed. This provides incredible flexibility so that you decide how your site looks instead of the theme deciding for you.
Contact Form Builder
You can add custom fields to your contact forms from the admin options. Any number of custom fields can be created and attached individually to any form. Includes options for custom validation, custom error messages, CAPTCHA and more.
Unbranded White Label Admin
An unbranded administrative interface with options to add your logo to the admin as well as and other company details, set permissions to restrict client access to theme options and more. To disable access to advanced developer features you can optionally hide the developer panels before turning the site over to your client.
Sidebar Generator
Create unlimited sidebars and add them to your custom layouts. You can also insert sidebars directly into any content area using a special shortcode!
Coded with Care
The theme uses HTML5 and CSS3 to create advanced styles using the latest technologies. Proper heading tags and coding standards are used to ensure outstanding search engine optimization. We take pride in creating well formatted and easily managed code.
And a lot more!
We've built this theme jam packed with so many incredible features and functionality they can't all be listed here.
Find out more and see the theme in action on the Salutation Demo Website.
Theme Features:
Unlimited color choices
Unlimited layouts and page templates
Drag and drop layout manager
Contact form generator
Full localization (.po/.mo files)
Powerful and easy to use theme options. Unbranded!
WordPress 3.0+ ready!
BuddyPress v1.5 ready!
Popup login form
Layered PSD files for customization
Get News and Updates
Looking for information about new releases and theme updates? Subscribe to our emails or follow us on Twitter and we'll do our best to keep you informed.
Updates and notifications
THEME UPDATE – VERSION 1 .3 (November 4th 2011)
bbPress 2.0 support, major updates and bug fixes.
bbPress 2.0 support!
Updatated contact form admin for easier setup and install.
Improved support for BuddyPress plugins.
Improved support for custom post types with theme layouts.
Updated translation files.
Fixed BP activity "Load more" bug.
Fixed BP pageination bug.
THEME UPDATE – VERSION 1 .2.2 (October 17th 2011)
Bug fix, style adjustments, etc.
Updated length of BuddyPress group description (from 25 letters to 100).
Updated static blocks to include content ID in classname.
Updates to BuddyPress template files (BP 1.5 related general modifications)
Added min-width to outer wrapper for improved display on smaller screens.
Fixed WP Admin bar styles to correct specificity issue (FF).
Fixed background image positioning and repeat options.
Fixed image resize function for servers with funky virtual folder structure.
THEME UPDATE – VERSION 1 .2.1 (September 22nd 2011)
Bug fix and style adjustments.
Updated references to "is_site_admin" with "is_super_admin".
Fixed delete link in BP v1.5 activity streams.
Fixed favorite link in BP 1 .5 activity streams.
Changed height of activity update inputs.
THEME UPDATE – VERSION 1 .2 (September 21st 2011)
BuddyPress v1.5 Compatibility Update
Updated theme related BP files and CSS .
Added theme styled default avatar icon.
Updated load priority on JavaScript files.
Updated "BuddyPress Links" custom menu options with "Special Functionality".
THEME UPDATE – VERSION 1 .1 (September 19th 2011)
Minor feature and bug fix update.
New feature: Get featured image directly with image shortcode [styled_image image="featured"]
New feature: [bp_notices] shortcode for Notices from BP Messages area.
Better support for plugins making direct calls to "the_header()" and "the_footer()"
Compress CSS file for base BuddyPress styles.
How to Update
You can re-download the new version from your account: "My account > Downloads". After the files are downloaded, copy the new theme folder to your server using your FTP application, overwriting the existing version.