Views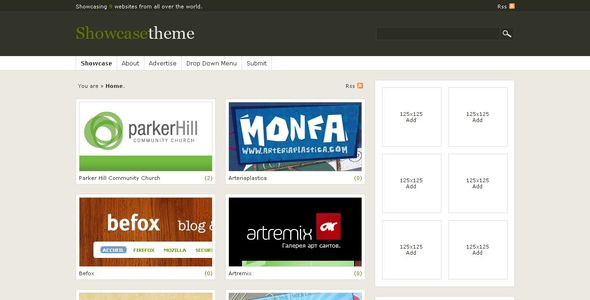 Total Download: 2/539
Theme Features
Showcase WordPress Theme Details:
This Theme Price Is Only $30 USD
Blog Description:
Here is my Showcase theme.
It's purpose is to be used as a gallery showcase site.
It's clean, modern and lightweight.
Theme Features:
* 125×125 sidebar adds, fully managed by a Custom Admin Panel in wordpress admin.
* Footer is widget ready, right and left side.
* Custom random image rotator in the middle of the footer.
* Browser compatible (IE6, IE7 , Firefox 2+3, Safari, Opera).
* Thumbnails and larger images are inputed using custom fields.
Note:
There is now a HTML template of this theme available here.
Also i will help buyers,purchasers who are having trouble installing the theme and some minor mods, i.e CSS etc to the theme but people who are modding the theme i will have to charge for my time.