Views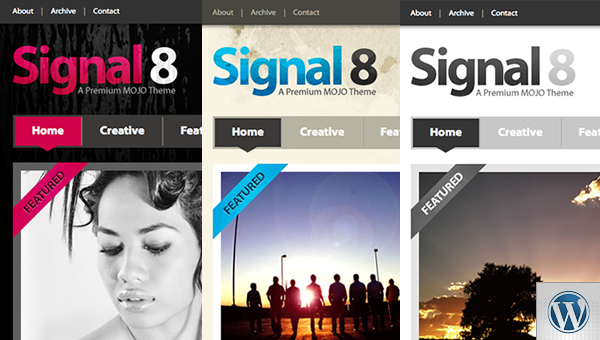 Total Download: 8/685
Theme Features
Signal 8 Magazine WordPress Theme Details:
This Theme Price Is Only $32 USD
Blog Description:
The Signal 8 WordPress theme delivers a sleek & fun feel but is still packed with tons of features.
It offers a premium magazine/news formatted homepage. Featured articles or posts display on the homepage slider. Included in this theme are 3 different color options and Google Analytics integration, among many more amazing options…
On top of the 3 unique color schemes, the real beauty of Signal 8 is that it is so simple to use. We built this with users in mind knowing not everyone is a veteran at WordPress.
In addition, the sidebars and footer are all widgetized. We have built 4 custom footer widgets and 1 custom sidebar widget among the standard ones the standard widgets that come with WordPress.
Features Include:
We also took the time to make this compatible with the new WordPress menu/navigation system. Setup your site navigation in minutes.
Support:
We give support 24/7 on our entire theme portfolio! Buy today in confidence knowing we will respond within minutes to your support problems.
Constant Updates:
We are constantly improving our themes to ensure the best products for you.
Our current theme version: 1.2
* If you are not running on 1.2 we highly recommend going to your downloads and downloading the current version.
Thanks for buying!