Views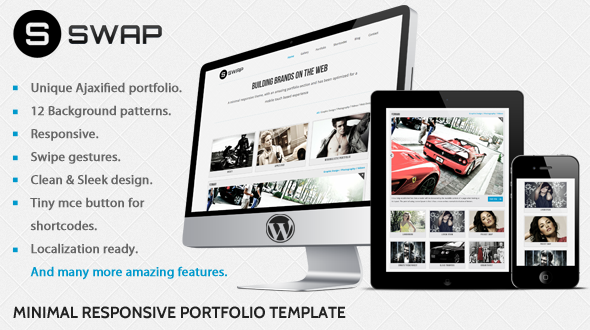 Total Download: 0/216
Theme Features
Swap Details:
This Theme Price Is Only $39 USD
Blog Description:
FEATURES
Unique Ajaxified Portfolio
Lightbox is popular, but its boring at the same time and doesn't look great on a tablet or a mobile device. We have a unique gallery / portfolio, that is responsive, supports images and youtube videos, swipe to slide across multiple images and makes maximum utilization of the space available. To top that images are loaded via ajax to enhance page speed.
Ajaxified Portfolio
Responsive
Looks great on all screen sizes and the performance is smooth..
Swipe gestures
Gives mobile and tablet users a native experience of sliding across images in the gallery
Tiny mce button for shortcodes
Why bloated complex generators, when shortcodes are meant to make your job simple. We have over 2 dozen shortcodes and we have a Tiny MCE dialog to easily add them to the place that matters – the content editor.
Other attractions..
12 Background patterns – Handpicked background patterns to suit the theme's design.
5 Custom widgets
Clean & Sleek design – Minimalistic design with a keep it simple approach to showcase your work in a unique way.
Localization ready – Swap comes with .po files to enable you to translate your website in multiple languages.
SUPPORT
Kindly post your questions and issues to the themes comments area. We are available Monday to Friday for Support and you can expect a response within 24 hours. Popular user feature requests will be addressed on a timely basis.
Be assured we will be updating this theme regularly, thats why we have got a theme update notifier built in. And here is a roadmap of amazing new additions coming up and you get lifetime free updates !
Single Portfolio template
About page list template
Auto Pause Video in portfolio
Font Control Options in admin panel
More Color Schemes and shortcodes.
CREDITS
Thanks to all the brilliant photographers, for making our theme look great with their images..
The Model – by Thomas Leuthard
Yan R's photostream
Girish suryawanshi's photostream
Y's photostream
Scott Hudson **'s photostream
Tom Wolf | Photography's photostream -1
Tom Wolf | Photography's photostream -2
Tom Wolf | Photography's photostream -3
Driver Photographer's photostream
Chad Buchanan by Ryan Abel
Sarah by Carl Jones
She's in Fashion by Lauren Hammond
Julian Schratter By Ryan Abel